Pentagon Undecided on Nuclear Warhead for New Cruise Missile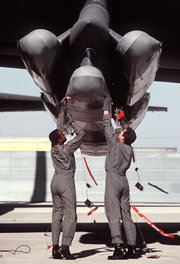 WASHINGTON -- The U.S. Defense Department has yet to determine which nuclear warhead will be fielded on a weapon that replaces the 1980s-vintage Air Launched Cruise Missile, according to Pentagon and combatant command officials (see GSN, Feb. 24).
Defense officials are "carrying out an Analysis of Alternatives to be completed this fall for an ALCM follow-on system," John Harvey, a Pentagon nuclear force official, said last month. "Plans are to sustain the ALCM and the W-80 warhead, [the] ALCM warhead," until the new missile, the Long-Range Stand-Off weapon, "can be fielded," he said.
Manufactured between 1979 and 1990, the cruise missile's W-80 warhead is deployed aboard 85 nonstealthy Air Force B-52 bombers to give the 1960s-era planes an ability to launch nuclear weapons without having to enter heavily defended airspace. The warhead has a variable explosive power of 5 to 150 kilotons, or roughly one-third to 10 times the yield of the nuclear weapon dropped on Hiroshima.
The Pentagon had earlier planned a major overhaul of the warhead to extend its service life, a recent Congressional Research Service report states. Initial studies were to begin in late fiscal 2029. By 2039, the W-80 nuclear explosive package and firing set would have received a major refurbishment, according to fiscal 2008 charts prepared by the Energy Department's nuclear security agency.
However, it appears that the plans for W-80 life extension have been suspended, if not outright canceled. A Senate appropriations bill in June 2006 said "W-80 life-extension activities" were "no longer supported by the Nuclear Weapons Council and the Department of Defense," and as a result Congress ceased funding for them.
At the time, the Pentagon and the joint Energy-Defense Department council anticipated that a version of the new "Reliable Replacement Warhead," optimized for cruise missiles, would be designed and built.
However, upon taking office, President Obama canceled his predecessor's program to build new nuclear warheads, siding with critics who argued that the stockpile could instead be kept viable for years to come without introducing new weapons (see GSN, Aug. 19, 2009).
Defense and Energy leaders "were wiling to sacrifice the W-80 [life-extension effort] when they thought they could get the RRW," said Hans Kristensen, who directs the Nuclear Information Program at the Federation of American Scientists. "Now they can't get the RRW," he said.
That means the administration must instead "explore the use of existing warheads" for the future cruise missile, Harvey said last month in a speech at a nuclear weapons symposium.
The Air Force plans to retain today's Air Launched Cruise Missiles through 2030, according to fiscal 2013 budget documents. Current expectations are, though, that the workhorse B-52 bomber will remain flying at least a decade longer -- "beyond the year 2040," the Air Force says.
Harvey suggested that the LRSO weapon is needed to ensure that the aging Stratofortress bomber can retain its stand-off nuclear capability after today's Air Launched Cruise Missile becomes obsolete or is retired. The missile has a range of more than 1,500 miles.
"Modern air defenses put the bomber stand-off mission with ALCM, the current strategic cruise missile deployed with the [B-52] bomber, increasingly at risk," he said on Feb. 15 at the Arlington, Va., event.
The Air Launched Cruise Missile for now is undergoing a maintenance program to keep it functioning properly, according to the Air Force. Roughly 1,140 of the cruise missile's nuclear version, the AGM-86B, are fielded in today's arsenal.
At the same time, the Analysis of Alternatives currently under way is aimed at determining what capabilities and technologies would be appropriate for the Long-Range Stand-Off weapon. Fiscal 2013 budget plans include more than $600 million for development of the future cruise missile over the next five years.
If no major overhaul is presently planned that would extend the W-80's service life, what nuclear warhead would go aboard the new Long-Range Stand-Off cruise missile?
"The DOD has not ruled in or out a life extension program for the W-80, the decision has not been made," Navy Capt. Jeff Bender, a U.S. Strategic Command spokesman, said last week in response to queries. Based in Omaha, Neb., Strategic Command determines military requirements for nuclear weapons and would take responsibility for them if ever used in combat.
"The W-80 is one of three candidate warheads for the future Long-Range Stand-Off missile," Bender stated by e-mail. "If the W-80 is selected for the LRSO weapon system, it will require a life-extension program in the future."
A major warhead life-extension effort of this kind would require about a decade's advance notice, so that design studies and preparations could be carried out, Thomas D'Agostino, who heads the National Nuclear Security Administration, told reporters on March 8.
Harvey -- who serves as principal deputy assistant Defense secretary for nuclear, chemical and biological defense programs -- said another candidate warhead for the new cruise missile is the B-61, several variants of which are fitted on gravity bombs and are now being readied for service life extension (see GSN, March 15).
The first life-extended B-61 warhead should be available by 2019, according to D'Agostino. Kristensen said the bomb warhead's potential use on a new cruise missile, though, would be likely to require significant additional modifications and flight testing.
The third warhead alternative for the new cruise missile, Harvey said, is the W-84, which was designed in the late 1970s for use on the since-banned Ground-Launched Cruise Missile. The W-84 is a B-61 derivative that is closely related in design to the W-80.
Which warhead is ultimately selected for the cruise missile replacement could depend on a variety of factors, Kristensen said. Some warheads feature more modern security devices -- such as "permissive action links" that require secret codes before activating -- or nuclear explosive cores that resist accidental ignition if caught in a blaze.
"If safety and security are the issue, they would use the W-84 because it has the best permissive action link and fire-resistant pit," said Kristensen, comparing it to the W-80 and B-61.
All three of the potential LRSO warheads use insensitive high explosives, a key safety feature that make warheads less likely to detonate if accidentally dropped or hit with a bullet, for example, according to the Washington-based analyst.
Kristensen opined, though, that Defense and Energy officials seem to be asking the wrong question.
"One can always fiddle with whether it's necessary to use this or that warhead. But my fundamental question is whether it's necessary to have a nuclear-armed cruise missile," he said in a Monday telephone interview. Today's Air Launched Cruise Missile has conventional as well as nuclear variants.
"Given the overwhelming capability that we have in the highly accurate, long-range ballistic missile force -- and the gravity bombs that can also be delivered by aircraft -- it's hard for me to see why an air-delivered nuclear cruise missile is needed, as well, in this day and age," Kristensen said. "If the mission is deterrence, then it's clearly not needed."
The Air Force, by contrast, sees the new weapon system as central to its ability to carry out its nuclear responsibilities.
"The LRSO weapon system will be capable of penetrating and surviving advanced integrated air defense systems from significant stand-off range to prosecute strategic targets in support of the Air Force's global attack capability and strategic deterrence core function," the service stated in fiscal 2013 budget documents, submitted to Congress last month.
Clarification: An official U.S. Air Force figure cited in this March 20 article on nuclear-armed cruise missiles is out of date, according to issue expert Hans Kristensen. A recent analysis by Kristensen and Robert Norris -- both of the Federation of American Scientists – says the service by this year likely has reduced to a total 528 AGM-86B Air Launched Cruise Missiles.
About
WASHINGTON -- The U.S. Defense Department has yet to determine which nuclear warhead will be fielded on a weapon that replaces the 1980s-vintage Air Launched Cruise Missile, according to Pentagon and combatant command officials.
Countries