Perry: Stronger U.S.-Indian Alliance Needed to Act on Pakistani Nukes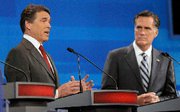 Texas Governor Rick Perry charged on Thursday that President Obama has failed to build a U.S.-Indian alliance strong enough to mount an adequate response should Pakistani nuclear weapons fall into the hands of regional extremists (see GSN, Sept. 19).
Islamabad maintains that its atomic assets are secure and has played down international fears that militants might steal a warhead or weapon-grade material from its nuclear stockpile. The United States, though, has reportedly discussed and possibly drilled on a contingency plan to forcibly secure Pakistan's nuclear stockpile during a crisis (see GSN, Aug. 4).
Asked during a Republican presidential debate to describe his "first move" in the event that he learns as commander in chief that Pakistani nuclear weapons had been seized by Taliban militants, the leading GOP contender stressed the importance of establishing strong regional alliances prior to any such development.
"Before you ever get to that point, you have to build a relationship in that region. And that's one of the things that this administration has not done," Perry said at the evening debate in Orlando, Fla.
The United States has funneled billions of dollars in assistance to Pakistan, aimed in part at shoring up the security of the nation's sensitive nuclear sites. Perry hinted at Islamabad's unreliability as an ally, though, referring to Joint Chiefs of Staff Chairman Adm. Michael Mullen's assertion this week that the Haqqani terrorist network is essentially an extension of the nation's intelligence service.
He emphasized the necessity of "a relationship with India, to make sure that India knows that they are an ally of the United States."
"For instance, when we had the opportunity to sell India the upgraded [F-16 fighter jets], we chose not to do that," Perry said. "We did the same thing with Taiwan. The point is our allies need to understand clearly that we are their friends; we will be standing by there with them. Today we don't have those allies in that region that can assist us if that situation that you talked about were to become a reality."
A report issued days ago by two prominent think tanks urges Washington and New Delhi to clandestinely plan joint responses to a potential set of crises in Pakistan, including threats to the Pakistani military's control of the nation's atomic arsenal (see GSN, Sept. 19).
Former Pennsylvania Senator Rick Santorum broke with Perry on the question, instead highlighting a need to forge "relationships in Pakistan" with an array of potential power brokers, including one-time Pakistani President Pervez Musharraf, who resigned in 2008.
If the Islamabad government appeared in danger of collapsing, such bonds could enable the United States to "work in concert to make sure [a Pakistani] coup could be overturned and make sure ... those nuclear weapons do not fall into those hands," Santorum said.
"But working with allies at that point is the last thing we want to do. We want to work in [Pakistan] to make sure that the problem is diffused," he said.
Pakistan has the "world's fastest-growing nuclear stockpile" and could have as many as 200 warheads within the next 10 years, according to a July analysis published in the Bulletin of the Atomic Scientists (see GSN, July 1). Islamabad today is estimated to have 90 to 110 atomic arms.
"People need to understand how real" the Pakistani nuclear threat is, former House Speaker Newt Gingrich said later in the discussion. "This world is in danger of becoming dramatically more dangerous in the not-too-distant future. People talk about an Iranian weapon. There may be well over 100 nuclear weapons in Pakistan, and the example you used is not too far-fetched to worry about."
Earlier, former Massachusetts governor Mitt Romney -- likely Perry's most formidable contender for the GOP nomination -- said Iran "perhaps represents the greatest existential threat to Israel" (see related GSN story, today).
"We have to make it abundantly clear it is unacceptable -- and I take those -- that word carefully -- it is unacceptable for Iran to become a nuclear nation," Romney said.