With Rare Support, Chemical Security Legislation Advances in House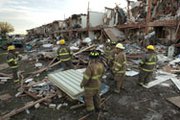 A House subcommittee on Thursday moved legislation meant to extend the life of the Homeland Security Department's chemical-security program that -- for the first time in years -- appears to have the support of both House committees with jurisdiction over the issue.
Numerous efforts by the House Homeland Security Committee to pass legislation providing long-term authorization for DHS chemical-facility antiterrorism standards in recent years have failed, largely due to disagreements with the House Energy and Commerce Committee, which also oversees the matter.
However, the latest incarnation of the bill -- which Representative Patrick Meehan (R-Penn.) first introduced in February and which has been backed by House Homeland Security Committee Chairman Michael McCaul (R-Texas) -- has been developed with assistance from House Energy and Commerce Committee staffers, a Homeland Security Committee aide told Global Security Newswire. The aide was not authorized to discuss the issue publicly and asked not to be named.
At a hearing in February, Representative Bennie Thompson (D-Miss.) suggested that the bill could actually increase jurisdictional tensions between committees. He also raised concerns that the legislation would do little to reform many controversial aspects of the DHS program, which is aimed at helping shield commercial chemical facilities from terrorist attacks that could prove deadly to surrounding communities.
Representative Yvette Clarke (D-N.Y.), the top Democrat on the Homeland Security Subcommittee on Cybersecurity, Infrastructure Protection and Security Technologies, said on Thursday that panel Republicans had "paid attention to some of the concerns" Democrats raised in February during the process of drafting an amended version of the bill.
The subcommittee approved the amended bill by a unanimous voice vote on Thursday. However, Clarke and other Democrats said they still had several concerns with the legislation that they hoped to have addressed prior to a future vote by the full committee.
During Thursday's markup session, Clarke and Representative Steven Horsford (D-Nev.) offered several additional amendments to the bill, nearly all of which were rejected on party-line votes.
Among the failed Democratic amendments was one Clarke offered in an attempt to address her concerns that the bill could allow DHS to outsource the inspection of chemical facilities to private contractors.
"I have reservations about the use of contractors in the inspector cadre, where this work is generally recognized as an inherently governmental responsibility, especially when it involves terrorist threats and risks to the nation," she said.
In urging his fellow Republicans to vote against the amendment, Meehan, the subcommittee chairman, noted that the Energy Department routinely outsources sensitive national security work to the private contractors that run the national laboratories and other nuclear weapons facilities.
Also rejected was an amendment by Clarke meant to address her concerns that water and wastewater facilities -- which often deal with dangerous chemicals -- are exempt from the DHS program.
A failed amendment by Horsford would have added whistleblower protections to chemical facility employees who wish to flag potential security concerns without placing their employment status in jeopardy. Horsford cited recent concerns that whistleblowers who raised safety concerns at the Hanford nuclear weapons waste site had lost their jobs in retaliation.
About
Two key House committees cooperated on a bill meant to extend the life of a controversial Homeland Security Department program.
Countries