Review Set for Major U.S. Radiation Detection Program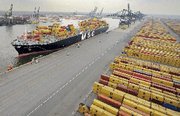 WASHINGTON -- The U.S. Government Accountability Office plans to review the progress of a federal program that deploys technology at foreign seaports to detect nuclear or radiological weapons materials that could be used in an act of terrorism (see GSN, March 30).
The evaluation of the Megaports Initiative was requested in January by Representative Edolphus Towns (D-N.Y.), chairman of the House Oversight and Government Reform Committee (see GSN, Jan. 15).
Towns called for congressional auditors to assess whether the program had addressed recommendations of a 2005 GAO report that asserted that "limited progress" had been made in fielding radiation sensors at high-threat seaports. Among the recommendations were a long-term plan identifying how many and which foreign ports would be equipped with portal detection systems and a better cost projection analysis for the program.
"The chairman wants to have a better understanding of how much money is being spent on the Megaports Initiative, where the money is being spent, and whether we are getting what we are paying for," committee spokeswoman Jenny Rosenberg said by e-mail.
"Previous studies have raised serious concerns about our ability to detect nuclear smuggling," she said. "The chairman wants to know whether the nuclear detection technology being developed is effective, relative to the potential threat."
Towns also wants to know whether there would be value in considering new technologies or strategies for dealing with the threat, according to Rosenberg.
The review is expected to begin in about three months and would directly address Towns' questions on the program's cost, financial support from host nations and other issues, according to Eugene Aloise, GAO natural resources and environment director.
The 7-year-old Megaports program is managed by the National Nuclear Security Administration, a semiautonomous branch of the Energy Department. It is part of the larger Second Line of Defense program, which aims to "strengthen the capability of foreign governments to deter, detect and interdict" the transport of nuclear and radiological materials through international entry points, according to an agency fact sheet.
The seaport program is now operational at about 30 sites across the globe and is being implemented at another 16, said NNSA spokesman Damien LaVera. This week, the nuclear agency announced it would deploy radiation detection technology to several Italian ports. The United States funds the installation of radiation detectors and associated technology, and provides training for personnel at the host port. The partnering government provides the workers and continued maintenance of the devices.
The nuclear agency said the program has already proved valuable in concrete terms. In 2005, U.S.-supplied detection technology in Sri Lanka identified a "small commercial neutron source" in scrap metal bound for India, according to testimony given by NNSA Assistant Deputy Administrator David Huizenga at a 2008 Senate hearing.
Additionally, multiple Megaports have detected "orphaned radioactive sources" in scrap metal, LaVera said. While not viewed as a proliferation threat, the material could pose a public health risk, according to LaVera.
Through fiscal 2009, the agency had invested approximately $460 million on "outreach, installation, testing, training, and sustainability efforts" for the program, LaVera said by e-mail. The initiative is expected to require $1.4 billion to meet the goal of within five years equipping 100 ports with radiation portal monitors that would scan roughly half of all cargo containers shipped by sea.
"President Obama has made clear that the greatest threat to our security is the danger of a terrorist acquiring a nuclear weapon and outlined an ambitious agenda of securing vulnerable nuclear material around the world within four years," LaVera said by e-mail. "NNSA and our Megaports Initiative are a critical part of the international effort to achieve that goal and prevent nuclear terrorism in the United States."
There is no indication, publicly at least, that the program has yet prevented an act of terrorism involving nuclear or radiological materials.
The infrequency of the Megaports success stories, coupled with its sizable budget, has led to questions about the value and implementation of the program. Some observers also question the likelihood that terrorists would use cargo containers to transport nuclear material.
"Why people are fixating on containers I don't understand," said homeland security expert James Carafano. "We fixate on containers because container traffic in a sense is the easiest thing to scan and pay attention…The best way to keep a port safe is to keep evil people out of the ports."
The Threat
The Megaports Initiative is just one part of the U.S. program to prevent terrorists or rogue states from acquiring or using material that could be used in a "dirty bomb" – a weapon that would use conventional explosives to disperse radioactive material – or an actual nuclear weapon.
The 100 states participating in the International Atomic Energy Agency's Illicit Trafficking Database reported a combined 1,340 incidents of "illicit trafficking and other unauthorized activities involving nuclear and radioactive materials" from 1993 and 2007.
In 2003, Georgian border personnel equipped with technology supplied through the Second Lind of Defense program seized 173 grams of highly enriched uranium from an Armenian national, LaVera said. In 2007, NNSA detectors uncovered multiple radioactive isotopes in scrap metal exiting Honduras for the Far East.
There have been other examples of the potential intersection of illicit commerce and extremism. Georgian authorities in 2006 caught a Russian national trying to sell 100 grams of weapon-grade uranium for $1 million.
There has been a "significant increase in the illicit trafficking of radiological materials" and a heightened "availability of chemical, biological, radiological and nuclear related technologies over the Internet," the British Home Office said last week (see GSN, March 23).
FBI Director Robert Mueller also said recently that the terrorist group al-Qaeda was still in search of unconventional means to attack the United States (see GSN, March 18).
Even a crude nuclear weapon could cause a significant number of casualties and widespread damage, while a dirty bomb would be more likely to cause economic disruption than a great number of deaths.
In an extremist did successfully employ smuggle and detonate a crude explosive device, the maritime trading system would be greatly disrupted, said Stephen Flynn, a former Coast Guard officer and current president of the Center for National Policy. While the probability of a terrorist transporting a nuclear weapon through cargo is small, a container would be attractive to an adversary who intends to cripple an essential network, he said.
To identify international ports most at risk for nuclear smuggling, the Megaports Initiative has a "Maritime Prioritization Model," the 2005 GAO report stated. The current model has ranked 736 foreign ports, according to a spokesman at Sandia National Laboratories in New Mexico, which is in charge of updating the list.
The Port of Piraeus in Athens, Greece, in 2004 was the first to receive the full deployment of technology shortly after a successful pilot project began being implemented at Rotterdam Port in the Netherlands. Despite its low Maritime Prioritization Model ranking, the 2004 summer Olympics in Athens increased the need for port security, according to the 2005 GAO report.
"I am happy with the program," Greek Atomic Energy Commission President Christos Housiadas told Global Security Newswire.
While maintenance of the radiation technology had been an "extra burden," it is a boon to the security of the global maritime system, he said.
Reservations
Some experts are more reserved in discussing the Megaports Initiative and its intended goals.
Securing maritime shipping containers was a "knee jerk reaction" to the Sept. 11 terrorist attacks, argued Carafano, head of the Heritage Foundation's Douglas and Sarah Allison Center for Foreign Policy Studies.
"I think [the attack profile] only makes sense in Tom Clancy books. If somebody had a nuclear weapon the last thing they would do would be let it out of their positive control and put it into a container where containers get misdirected and lost and dumped overboard and crushed," he said.
The detection technology used in the program is another issue. Congressional auditors said five years ago that sensor capabilities have been found to be reduced when radioactive substances were shielded by lead or other dense materials.
Natural sources of radiation have also been found to set off the sensors. These false alarms require cargo to be scanned by secondary screening technology to identify the material emitting the radioactive isotopes.
"Concept wise, I think what the Megaports effort was trying to do was fairly thoughtful in getting at this potential risk. The challenge really has been, of course, whether the tools can actually do the job of detecting adequately what we're worried about looking for," Flynn said.
"A kind of wide area surveillance is just a very, very difficult challenge and the technology is just not there yet. We're better off spending money on getting the people that would do this to begin with," Carafano said.
The initiative's problems have less to do with the inherent limitation of equipment than the "needle in the haystack" approach to finding radioactive material, Flynn asserted.
The standing concept of port scanning operations has been similar to primary and secondary screening in airport security, according to Flynn. Primary scanning equipment has been used to screen the contents inside containers, and all radiological material that sets off the portal then goes through secondary scanning. Personnel use detection devices to identify the specific radioactive isotope within the container. Since cargo often has benign radioactive material, this system requires too much manpower and could result in operational delays, Flynn said.
"The movement of containerized cargo is essentially the conveyor belt for the global economy. If that system gets spooked, and our reflex is to shut it down even for a short period of time we could end up constipating essentially the flow of commerce for a minimum period of 30 days that would have cost, that would readily get you into the tens of billions" of dollars, he said.
A better approach would combine imaging technology with primary radiation scanning, resulting in a small pool of containerized cargo that would need additional attention from port officials, according to Flynn. Used by the Homeland Security Department's radiation scanning efforts, imaging technology would identify dense material such as concrete, lead and steel. These dense materials defeat portal scanning by blocking the equipment's gamma rays detectors.
Port cargo that did not pass this first round of radiation and image screening would then pass through second and third scanning lanes, according to Flynn. This more automated "taking hay off the stack" approach would systematically reduce containers that pose a possible security threat, Flynn said.
A research paper simulation performed about a year ago by Flynn and colleagues at University of Pennsylvania's Wharton School found that this type of operational approach could use existing technology cost-effectively and scan cargo at a high traffic terminal without disrupting the flow of commerce.
Joint efforts have been made by Energy Department and the Homeland Security Department to partner radiation and nonintrusive imaging technology under the Secure Freight Initiative. This program is intended to provide more complete information on cargo bound for the United States, according to testimony by Huizenga.
Transshipped cargo, in which goods are transported to an intermediary port before arriving at their intended destination, has also presented logistical challenges within the program. Such materials "do not pass through port entry and exit gates, and … often have short dwell times at a port," meaning they cannot be moved through stationary radiation portals without significantly hindering port operations. Mobile radiation detectors are being tested to solve this dilemma, according to LaVera.
"The Megaports Initiative has provided a helpful stepping off point for trying to get at the challenge of how do we potentially detect nuclear materials, and possibly weapons, moving through containerized cargo. But is certainly not essentially sufficient to essentially managing that risk," Flynn said.
About
WASHINGTON -- The U.S. Government Accountability Office plans to review the progress of a federal program that deploys technology at foreign seaports to detect nuclear or radiological weapons materials that could be used in an act of terrorism (see GSN, March 30).