Russia Accuses U.S. of Delaying Arms Control Progress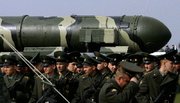 Russia today alleged that the United States is holding up negotiations aimed at preparing a successor to the 1991 Strategic Arms Reduction Treaty, which expired earlier this month, Agence France-Presse reported today (see GSN, Dec. 16).
"In the past couple of days we have noted a slowdown in the positions of the U.S. negotiators in Geneva," said Russian Foreign Minister Sergei Lavrov.
U.S. President Barack Obama and Russian President Dmitry Medvedev announced in July they would reduce each of their countries' deployed strategic nuclear arsenals to between 1,500 and 1,675 weapons in the new agreement. Under the 2002 Moscow Treaty, the former Cold War adversaries were required to cut their arsenals to 2,200 each by the end of 2012. For the upcoming pact, the two presidents also agreed to restrict strategic delivery vehicles to between 500 and 1,100 on each side.
Lavrov said the leaders are "highly unlikely" to sign a completed replacement treaty when they convene for a climate summit this week in Copenhagen, Denmark (Agence France-Presse I/Spacewar.com, Dec. 17).
He pressed Washington to acquiesce to larger arsenal reductions and less stringent monitoring terms in the new agreement, the Associated Press reported.
"Control measures must be adequate to a new treaty, not the old one. They must be lighter and less expensive," the official said. "It's time to get rid of excessive suspiciousness, especially as both presidents have said repeatedly they want to see a new level of U.S.-Russian relations based on trust, mutual respect and equality."
"It's important not to go back to what already has been agreed," Lavrov added.
He suggested the sides could reach agreement on a new treaty "quite soon," but he offered no specific time estimate for the pact's completion (Vladimir Isachenkov, Associated Press/Google News, Dec. 17).
An "informed source" in Moscow said the talks would drag into next year, AFP reported.
"The number of details that need to be agreed is such that it's physically impossible to do it all in the time left until the end of the year," Interfax quoted the source as saying.
"Such delays shouldn't be dramatized, since Moscow and Washington are both equally keen on constructive (dialogue) and on coming up with a document that suits both sides," the source said, adding that a finished deal "may be ready for signing in January next year."
One U.S. State Department official added: "Expect that the START talks are powering right through the weekend, they're going to go right up to Christmas, (then) breaking for the holidays and coming back in January" (Agence France-Presse II/Spacewar.com, Dec. 17).
Meanwhile, the U.S. Senate's 40 Republican lawmakers told Obama in a letter yesterday that his administration must prepare concrete plans for modernizing the nation's nuclear deterrent before the new arms control agreement can be ratified, the Washington Times reported.
"We don't believe further reductions can be in the national security interest of the U.S. in the absence of a significant program to modernize our nuclear deterrent," says the letter, also signed by one independent senator. Ratification of the treaty would require the support of 67 senators.
The document demands funding for "a modern warhead" (see GSN, Sept. 18); complete refurbishment of B-61 and W-76 nuclear warheads (see GSN, Nov. 20); allocation of funds to complete several new nuclear-weapon component production facilities; and full funding for nuclear stockpile maintenance and oversight.
The National Defense Authorization Act for fiscal 2010 establishes the preparation of arsenal modernization plans as a precondition to a START successor's ratification, according to a Republican Senate staffer (Bill Gertz, Washington Times, Dec. 17).
Elsewhere, Russia dismantled nine ICBMs this year under the terms of the 1991 pact, RIA Novosti reported.
"In accordance with the START 1 treaty, the strategic missile forces destroyed nine ICBMs in 2009, including seven RS-18 and two RS-20 ICBMs," said Lt. Gen. Andrei Shvaichenko, who oversees the strategic missile forces (RIA Novosti, Dec. 16).