Russia Seen Drifting From Other Iran Negotiators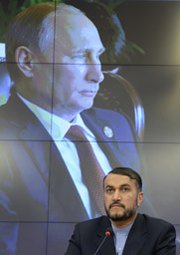 France said Russia has begun adopting a tack different from other nations participating in talks to rein in Iran's disputed nuclear efforts, Reuters reports.
French Foreign Minister Laurent Fabius on Tuesday said the "differences in approach" developed in recent days, after a long period in which Russia had maintained a united front with the five other countries negotiating with Tehran: China, France, Germany, the United Kingdom and the United States. The five permanent U.N. Security Council member nations and Germany are pushing to meet a July 20 deadline for a deal to restrict Iran's weapon-usable nuclear activities and lift international sanctions against the Persian Gulf power.
"Until now the P-5+1 were homogenous, but over the last few days my representatives in the negotiations have seen a certain number of different approaches -- and I hope they won't remain -- between some of the P-5+1 and our Russian partners," Fabius told lawmakers on the French legislature's foreign relations panel.
"We want to preserve the unity among the P-5+1 because that is how we reached a deal before," the top diplomat said, referring to an interim accord scheduled to expire in less than two weeks. He did not specify what distinguished Moscow's latest tactics, or the group members whose approaches differed.
Separately, an unnamed French diplomatic insider said the "difference is disappearing relatively quickly."
"We are reassured," the source said.
Fabius added: "None of the primary points are resolved, be it the question of [uranium] enrichment, number of centrifuges, the Arak reactor, how we treat [the Qum enrichment plant], how the international control is done, how sanctions will be lifted. None of these questions currently have been ticked off."