Russia Insists on Multilateral Nuclear Arms Control Talks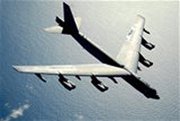 WASHINGTON -- A senior Russian diplomat's comments this week that further nuclear arms reductions must go beyond his nation and the United States could be a sign of President Vladimir's insecurity with his domestic political standing, according to a former U.S. defense official.
"We cannot endlessly negotiate with the United States the reduction and limitation of nuclear arms while some other countries are strengthening their nuclear and missile capabilities," RIA Novosti quoted Russian Deputy Foreign Minister Sergei Ryabkov as saying.
"Making nuclear disarmament a multilateral process is becoming a priority," Ryabkov added.
There were hopes that after Russia and the United States held their presidential elections last year, the incoming governments would feel sufficiently secure to negotiate a follow-on to the New START accord that took effect in 2011. That treaty requires the former Cold War foes to by 2018 deploy no more than 1,550 long-range nuclear warheads and 700 delivery systems.
However, Putin and his deputies in recent months have publicly taken hard-line stances on matters including U.S. policy toward Syria and the developing NATO ballistic missile shield in Europe. Those comments have dispelled any early optimism that the Obama administration might have an easy road to new nuclear talks.
"After the two elections … I think there was kind of a hope that with the political season over that both sides could now move forward …. I think the news theme is perhaps not," said the ex-official, who asked for anonymity in order to discuss sensitive foreign relations issues.
Putin was taken aback last year by the strong level of public protests to his party and his presidential re-election campaign after years of relatively unchallenged rule. The government's efforts to crush opposition sentiment have not gone over well in Russia and a souring domestic economy has further harmed Putin's popularity. For these reasons, analysts believe that the vehemence behind the Kremlin's anti-U.S. rhetoric is largely aimed at shoring up Putin's traditional conservative base.
Still, Ryabkov's comments are consistent with Russia's desire for weapon reductions to be multilateral. To date, all formal nuclear-weapon reduction pacts have been limited to Russia and the United States.
After multiple rounds of arsenal cuts, the U.S. and Russian stockpiles still vastly outnumber those of other states, comprising together about 90 percent of the world's nuclear weapons.
France is estimated to have the world's third-largest nuclear arsenal with fewer than 300 warheads that can be delivered by sea or by air. Paris signaled in its new defense white paper released earlier this spring that it plans to adhere to that number for the indeterminate future. The United Kingdom in 2010 unilaterally committed to slashing its total warhead stockpile to 180 weapons.
That leaves China among the remaining five recognized nuclear powers with an estimated arsenal of 240 warheads. While the Asian power is not perceived as rushing to enlarge its nuclear stockpile, it is seen to be developing a greater range of delivery capabilities including via ballistic missile-armed submarines. For this reason, Washington and Moscow emphasize including Beijing in future multilateral rounds of arms control negotiations.
The two powers, however, differ on the timing. Officials in Washington generally argue that at least one more round of bilateral arms reductions is needed before other nations -- namely China, France, and the United Kingdom -- are asked to participate.
"As a practical matter, the other nuclear arms states, particularly China, have said they are not going to even consider getting involved in multilateral nuclear arms reduction discussions until" Russia and the United States pare back their arsenals significantly, said retired Lt. Gen. Frank Klotz, the former commander of Air Force Global Strike Command.
Klotz, who is now a senior fellow with the Council on Foreign Relations, said it is not clear just how low Russia and the United States need to bring their stockpiles for China to participate in arms reductions. "But it's much lower than what it is now."
While neither London nor Paris has signaled a readiness to engage in multinational arms control talks in the short-term, Klotz said he views France as the more reluctant party. France famously prizes its nuclear weapons as the absolute guarantor of its national security. Even as the nation plans to cut some of its conventional military capabilities due to budget deficits, the government has resolved to maintain its nuclear force at present levels.
Besides Russia's demand for multilateral arms control negotiations, Moscow has also said it will not enter into talks without first resolving its differences with the United States over plans for the deployment of U.S. missile interceptors in Europe.
Ryabkov this week indicated that President Obama's reported recent offer for a legally binding antimissile data exchange did not go far enough in assuaging Russian worries that the advanced interceptors will have the ability to target Russian strategic nuclear missiles, the Associated Press reported.
Deputy Defense Minister Anatoly Antonov on Saturday said the Russian military was readying "military-technical measures" against U.S. interceptors if they are deployed absent an accord with Russia, according to United Press International.
About
WASHINGTON -- A senior Russian diplomat's comments this week that further nuclear arms reductions must go beyond his nation and the United States could be a sign of President Vladimir's insecurity with his domestic political standing, according to a former U.S. defense official.
Countries