Russia Might Still Use Sea-Fired Nuclear Cruise Missiles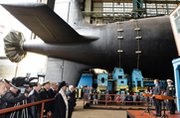 WASHINGTON -- There is cause to suspect that Russia might be deploying some number of sea-launched cruise missiles tipped with nuclear warheads, two decades after the United States put its version of the weapon into storage, issue experts say.
The Kremlin might also be developing a next-generation version of that same missile type as part of its broader nuclear forces modernization, according to some observers.
If true, the missiles could present a complication to future U.S.-Russian arms control negotiations -- and a stealthy threat in the unlikely event of a nuclear conflict.
"The sky is not falling. I don't think that they're on the verge of deploying large numbers of new nuclear-armed cruise missiles," said arms control specialist Jeffrey Lewis of the James Martin Center for Nonproliferation Studies. "But it's something that's worth taking seriously and thinking about. And, if one is committed to doing more in the arms control field, this is a question that is going to come up."
The United States definitively took its sole line of nuclear sea-launched cruise missiles, the Tomahawk land-attack system, off deployment in the early 1990s. Russia's management of an arsenal with various types of such weapons has been less clear, according to Lewis.
The U.S.-Soviet Strategic Arms Reduction Treaty signed in July 1991 addressed only the class of weapons that generally have greater ranges and explosive yield than tactical nuclear arms intended for battlefield use. However, the sides separately agreed to field no more than 880 nuclear-armed sea-launched cruise missiles and to issue yearly declarations on the deployment counts, Lewis said.
Just a few months later, President George H.W. Bush announced unilateral pullbacks of tactical nuclear arms under which the Navy would during "normal circumstances" not carry nonstrategic nuclear missiles on surface vessels or attack submarines.
At the time, the United States held about 350 Tomahawk nuclear cruise missiles that could be launched from sea against land targets, according to Hans Kristensen, director of the Nuclear Information Project for the Federation of American Scientists. The Navy, prior to the White House order, kept about 100 of the missiles on attack submarines and other naval vessels on a regular basis, he said.
The Soviets -- and later the Russians -- held a number of dual-capable cruise missiles for deployment on submarines and surface vessels, but only the SS-N-21 was intended as a land-attack weapon, according to Kristensen. Production and deployment figures, though, are hard to come by.
"This is Russian nuclear weapons. There's so much uncertainty," he said.
While then-Kremlin leaders Mikhail Gorbachev and Boris Yeltsin responded to Bush's move by pledging their own tactical weapons rollbacks, they did not "unambiguously commit" to pulling nuclear-armed sea-launched cruise missiles from attack submarines, Lewis said.
The governments in Moscow and Washington never released details of the cruise-missile declarations, which are no longer required following the START treaty's expiration in 2009.
"It seems likely that Russia declared zero, because if it hadn't declared zero it may very well have turned into a political issue," James Acton, a senior associate for nuclear policy with the Carnegie Endowment for International Peace, said in an interview.
Lewis concurred. "I suspect the Soviets (and Russians) did, in fact, declare zero, if only because I would expect any other number to leak," he wrote in an October post on the Arms Control Wonk blog.
The Obama administration announced the decommissioning of the sea-launched nuclear Tomahawks in its 2010 Nuclear Posture Review. Russia, though, might be going in the other direction, Lewis said.
Then-Russian Defense Minister Sergei Ivanov stated in 2006 that nuclear weapons were being carried by three "multipurpose (i.e. attack)" submarines, rather than the ballistic-missile underwater craft, Lewis stated in his blog post. News reports in recent years have suggested similar deployments.
Kristensen, though, said that Ivanov's statement was indicative only of "fumbled language" rather than demonstrating Russian nuclear cruise missiles were at sea.
Russia has also faced scrutiny in the last couple years over efforts to sell a short-range cruise missile system that is designed to be hidden and fired from a shipping container. The weapon is manufactured by the same firm that makes the SS-N-21 cruise missile.
"Although I suspect the intended audience for the containerized cruise missiles largely comprise tin-pot dictators … some Russians apparently see stealth and mobility as a selling point," Lewis told GSN. "For Russia itself, submarines are probably the platform of choice."
The nation's ongoing military modernization projects encompass a new attack submarine and new cruise missiles, according to Lewis, who directs his organization's East Asia Nonproliferation Program.
"They're working on a new cruise missile. It's probably for air delivery, but one could imagine them converting them over" for sea deployment, he said.
Among the rumors regarding Russia's cruise missiles is that a nuclear form of the SS-N-30 is being prepared for the Yasen-class atomic submarine Severodvinsk, Kristensen said.
"In 1991, the United States and the then-Soviet Union, as a political commitment, voluntarily agreed to cease deploying any nuclear sea-launched cruise missiles on surface ships or multipurpose submarines. The United States has no definitive information that the Russian Federation is not abiding by this political commitment," Pentagon spokeswoman Lt. Col. Monica Matoush said in a prepared statement to GSN.
The Russian Embassy in Washington said last week it had no information on the matter.
Experts acknowledged that the information is circumstantial rather than definitive, but said Moscow might see cause for fielding nuclear sea-launched cruise missiles or building new ones.
Russian leaders seemingly believe that cruise missiles and other naval nuclear weapons have a role in countering stronger U.S. and NATO sea power, Kristensen stated by e-mail. "Sea-launched cruise missiles provide a relatively stealthy and accurate option to hold at risk a variety of regional targets," Lewis said in an e-mailed follow-up to a telephone interview.
Having the missiles ready for use could be a hedge against burgeoning deployment of U.S. missile defense assets in Europe, Acton added. Submarines could fire a sea-launched nuclear cruise missile from a significant distance -- the SS-N-21 has a range of about 1,860 miles -- and the weapon would have a greater chance of reaching its target than an air-dropped bomb, he said.
"We're dealing with very low-probability, high-consequence scenarios," Acton added. "But if you're thinking of what nuclear weapons are of more or less concern, then those features make Russian sea-launched cruise missiles of more concern."
He said that development of new sea-based nuclear cruise missiles would not necessarily be based on "cold-blooded" Russian strategizing. Rather, they could derive from jockeying for influence between various weapons design bureaus.
The missiles could pose a threat to Obama administration hopes for a follow-up to the New START nuclear arms control treaty that would address tactical as well as strategic nuclear arms, Lewis said. The United States and Russia began implementing New START, which caps deployed long-range warheads at 1,550 and delivery vehicles at 700, in early 2011.
Russia deploys various types of nonstrategic nuclear weapons, but could be particularly reluctant to allow inspection of vessels that might carry sea-launched nuclear cruise missiles as well as conventional weapons.
"Once the Russians spend a bazillion dollars on a new cruise missile, the chance of an arms control agreement is much, much lower," Lewis said. "So I'm definitely engaging in the debate in anticipation of a threat rather than in response to [one]."
An effort to resume SLCM data exchanges could help. This might lead to other confidence-building measures and potentially some sort of agreement on the Russian weapons, Lewis has argued.
The likelihood of Moscow and Washington actually agreeing to such measures in the existing strategic climate, though, is "probably zero," he said.
About
WASHINGTON -- There is cause to suspect that Russia might be deploying some number of sea-launched cruise missiles tipped with nuclear warheads, two decades after the United States put its version of the weapon into storage, issue experts say.
Countries