Russia Seen Pushing Syrian Regime Against Chemical Weapons Use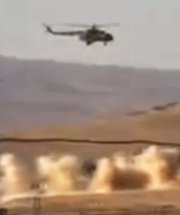 While a number of nations have demanded that Syrian President Bashar Assad refrain from using chemical weapons in his escalating attempts to stay in power, Russia's position is particularly influential, according to a Wednesday Associated Press report (see GSN, July 25).
Russia is one of Syria's last remaining international defenders and it has used its veto power on the U.N. Security Council to block multiple resolutions aimed at punishing Assad for the brutal crackdown on the 2011 uprising that has developed into a major internal conflict. Moscow has also kept up weapon deliveries to the regime.
However, Russia has also used its diplomatic connections with Damascus to underline how crucial it is that chemical weapons not be used against Syrian opposition forces and that security around WMD sites be maintained.
"Assad can't afford not to listen to Russian signals. He understands quite well that if he angers Russia, it will step back, leaving him to his doom,' Russia in Global Affairs journal editor Fyodor Lukyanov said in an interview.
The United States has said use of chemical weapons in Syria would cross a red line while Israel has said it would take military action if it appears that nonstate actors are obtaining unconventional arms materials from its neighbor.
Lukyanov and other experts said Moscow is in regular contact with the Assad regime but that its ability to sway the authoritarian government is not unrestricted.
"Russia certainly can't force Assad to step down. What Russia can do is tell him what are the limits he can't cross, and it has been doing that," Lukyanov said. "It may tell him that if he uses chemical weapons that would mean his end."
On Monday, the Assad government acknowledged possessing chemical and biological warfare materials but said they were only for use to ward off foreign aggressors. The Foreign Ministry subsequently attempted to walk back its admission of a WMD capability.
Center for Analysis of Mideast Conflicts chief Alexander Shumlin said the Foreign Ministry's statement about the potential for chemical attacks on foreign aggressors shows just how deeply worried the Assad regime is about its future.
When the Russian Foreign Ministry released a statement on Tuesday reminding Syria that as a signatory of the Geneva Protocol, it is legally barred from using chemical weapons, Damascus received the message regarding the consequences of any such move, according to Shumlin. "That would mean crossing the red line and make Russia look like an accomplice" (Vladimir Isachenkov, Associated Press I/Bloomberg Business Week, July 25).
Not much is publicly known about Syria's chemical weapons as the nation has never made a formal declaration to the international community and has not signed the Chemical Weapons Convention, which prohibits the production, stockpiling, and use of such lethal materials as blister, nerve and blood agents. Still, the regime is understood to hold hundreds of tons of mustard, sarin, and VX agents as well as ballistic missiles, rockets, artillery rounds, and air-dropped bombs that can deliver the chemicals in attacks.
Exposure to mustard gas can result in extremely painful skin blistering; if the agent is breathed in, it can cause harm to internal organs. Nerve agents are more poisonous than blister agents; symptoms such as blurred vision, vomiting, uncontrollable shaking, a shutdown of the respiratory system, and death can occur just seconds or minutes after contact, according to AP (Associated Press II/Boston Globe, July 25).
Western nations have exaggerated the size and breadth of the Syrian chemical arsenal, according to one anonymous insider in the Russian General Staff. He told the Kommersant newspaper, "Intelligence available to us indicates that the stockpiles of chemical weapons are not so large in Syria as the West says the are," Interfax reported (Interfax, July 25).
The Israeli public is taking seriously the possibility of coming under chemical attack. In recent days demands for government-provided special breathing apparatuses have gone up sharply, AP reported.
While as recently as last week the specter of a chemical attack had taken a back seat to dealing with the Iranian nuclear issue (see related GSN story today), the assassination of several key Assad deputies, including his defense minister, showed the world just how vulnerable the regime had become to rebel attacks.
The Israeli government is worried that chaos could erupt following a regime collapse in Syria, which could create the opportunity for the Lebanon-based Hezbollah to try to seize chemical weapons. Defense Minister Ehud Barak several days ago said he had directed the country's military to prepare for a possible pre-emptive attack in Syria in order to prevent terrorists from acquiring chemical arms.
There is also worry that Hezbollah could carry out retaliatory attacks should the Israeli military move to block any vehicles carrying Syrian weapons into Hezbollah-controlled territory in Lebanon, an anonymous Israeli defense official said.
Were Hezbollah to acquire chemical arms, "it would be like al-Qaida having chemical weapons," Israeli Prime Minister Benjamin Netanyahu said this week.
However, former Israeli Gen. Shlomo Brom said he thinks there is only a small danger of unconventional weapons being acquired by Hezbollah or al-Qaida-backed extremists. He pointed out that Syrian chemical warfare materials, which are understood to be kept in binary form, are generally stored in different areas from the munitions that would deliver them. That would make it more difficult to steal and put together all of the necessary components for a chemical attack (Teibel/Laub, Associated Press III/San Jose Mercury News, July 25).
Israeli news organizations on Wednesday reported that an assessment of national defense preparations showed the country was still vulnerable to ballistic missile strikes, according to the Xinhua News Agency (see GSN, March 12).
There are also not enough bomb shelters in Tel Aviv to protect all of its approximately 400,000 residents; only about 10 percent would be protected under the current sheltering system. The protective structures "are being maintained and monitored by the municipality as well as the Home Front Command," according to a statement from the city of Tel Aviv.
"Many of the shelters have been upgraded in accordance with the command's standards. In total, the city has 241 public shelters, 1111 of which are equipped with air filtering systems designed to deal with chemical weapons," the statement read (Xinhua News Agency, July 25).
About
While a number of nations have demanded that Syrian dictator Bashar Assad refrain from using chemical weapons in his escalating attempts to stay in power, Russia's position is particularly influential, according to a Wednesday Associated Press report.