Scientists to Resume Disputed Avian Flu Research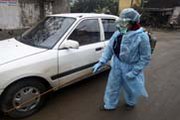 WASHINGTON -- An international group of 40 scientists on Wednesday announced plans to resume experiments aimed at producing more contagious strains of avian influenza.
Since agreeing one year ago to observe a voluntary global moratorium on "gain-of-function" studies involving the H5N1 virus, the flu science community has articulated the critical role of such research in preparing for possible pandemics as well as measures to minimize risks in their work, the group said in a joint statement. Security, safety and financial conditions for additional research have undergone scrutiny in several nations, and the World Health Organization has circulated guidelines to reduce the likelihood of laboratory accidents involving the virus, the experts wrote.
"Acknowledging that the aims of the voluntary moratorium have been met in some countries and are close to being met in others, we declare an end to the voluntary moratorium on avian flu transmission studies," they wrote in the letter, which is set for publication in the journals Science and Nature.
The pause initially took effect last January, weeks after a U.S. panel of biodefense experts recommended avoiding publication of certain data from two studies that genetically modified the H5N1 virus to be more transmissible between ferrets. The National Scientific Advisory Board for Biosecurity later reversed its decision following the submission of supplementary data by the research teams, paving the way for full publication of the U.S. and Dutch findings.
Ron Fouchier, who led one of the studies at the Erasmus Medical Center in the Netherlands, pressed last month to end the moratorium slated initially to expire after 60 days.
The controversy over the two studies kicked off an ongoing international conversation on how to handle disease research that some worry could be put to bad use in the wrong hands, Fouchier said.
"It's not going to end within a very short period," he told reporters by telephone on Wednesday. "That's why this moratorium should stop, because this discussion is going to take a few more years."
Research at institutions in various countries is likely to resume "in the next few weeks," he said.
Modified avian flu virus samples and associated research findings would be of little significance to potential terrorists, Fouchier later told Global Security Newswire by e-mail.
"People with malicious [intent] do not need our virus," he wrote. "There are numerous more dangerous pathogens that anyone could get their hands on in nature or via labs."
H5N1 has so far been relatively slow to spread in humans, but the virus has killed more than half of those infected. Of the 610 confirmed human bird flu cases, 360 have ended in death, the World Health Organization indicated in a Jan. 16 statement.
"We know that in nature, H5N1 viruses in birds are becoming more like viruses that infect mammals," said University of Wisconsin (Madison) scientist Yoshihiro Kawaoka, who led the second controversial study. "The greater risk is not conducting research that could help us be better equipped to deal with a pandemic," he said in the conference call.
Kawaoka said he would not be able to resume ferret transmission studies until the federal government finalizes a framework for conducting special reviews of grant requests for gain-of-function flu studies. The U.S. National Institutes of Health last month said it would accept comments on the proposal through Jan. 10, but the organization had not provided an update on the framework's status as of press time.
The scientist later said he could not specify exactly where the research would resume, but the letter's signatories could possibly pursue studies. He named China as one likely host and said rules were still under development in Japan. In addition to Fouchier and Kawaoka, signers of the document are based in Canada, China, Germany, Italy, Japan, Russia, the United Kingdom and the United States.
Fouchier said the scientists did not wait for completion of the U.S. review framework to end the moratorium because NIH officials had provided no concrete estimate for completing the plan.
Researchers want to find the minimum number of genetic mutations needed for avian flu to spread between ferrets through the air. Between five and nine mutations are necessary to enable airborne transmission; isolating the genetic markers is necessary to prepare drug treatments, according to advocates of the studies.
About
WASHINGTON -- An international group of 40 scientists on Wednesday announced plans to resume experiments aimed at producing more contagious strains of avian influenza.
Countries