Senate Delegation Positive About Security of Libyan WMD Materials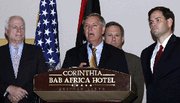 WASHINGTON -- Libya's chemical warfare materials and recently discovered store of raw uranium are not in danger of being acquired by remnants of the former Qadhafi regime, according to a U.S. lawmaker who visited Tripoli on Thursday (see GSN, Sept. 29).
"From all indications it appears that the United States and our allies in the [Transitional National Council] have a pretty good handle on those stockpiles. This visit reassured me on that count," Senator Mark Kirk (R-Ill.) said during a conference call with reporters. He declined to provide greater detail.
Kirk visited the Libyan capital as part of a delegation of four Republican senators, led by Armed Services Committee ranking member John McCain (Ariz.) and including Lindsey Graham (S.C.) and Marco Rubio (Fla.).
The lawmakers toured Tripoli and met with Libyan Transitional National Council President Mustafa Abdul Jalil, interim Prime Minister Mahmud Jibril and other officials, according to Kirk.
He said the campaign against regime forces is "entering its final stages" with house-to-house fighting reported in Muammar Qadhafi's birthplace of Sirte and in Bani Walid, another loyalist stronghold.
Before fighting broke out in February, the Qadhafi regime had destroyed 40 percent of its chemical weapons precursor materials and 55 percent of its declared mustard agent, the Organization for the Prohibition of Chemical Weapons said this week. Tripoli also eliminated more than 3,500 munitions that could have been used to disperse the toxic chemicals in an aerial attack.
Inspectors monitoring destruction of the materials were withdrawn from the country right before the rebellion began. It is believed that about 9 metric tons of blister agent and more than 800 metric tons of precursor materials remain in storage at a military depot near the village of Waddan.
Last week a council spokesman claimed its fighters had discovered and secured a military facility housing chemical agents in the desert area of Jufra.
Meanwhile, a CNN reporter accompanying TNC fighters earlier this month stumbled up on at least 10,000 containers of suspected yellowcake uranium at a military warehouse on the outskirts of Sabha in central Libya.
The International Atomic Energy Agency last week confirmed the nuclear material had been declared under a 2003 agreement to end Tripoli's WMD efforts. It has been reported that Libya once possessed between 500 and 900 metric tons of uranium.
"The United States and our allies are moving ahead very, very decisively to, No.1, have good situational awareness and building security over those areas and, No. 2, [have] a long-term plan, especially at the Waddan [site] ... to continue the already preplanned demilitarization of the chemical stockpile," Kirk told reporters from Malta.
He said he hoped the chemical destruction process could be completed "once the TNC gives the 'go' sign and some spare parts show up," referring to an equipment failure that brought activity at the country's disposal facility to a halt in February. That incident coincided with the outbreak of violence.
The Qadhafi government ordered a replacement part, but delivery has been blocked by U.N. sanctions on the regime.
Kirk did not say when chemical destruction activities might resume. The Organization for the Prohibition of Chemical Weapons has said it hopes to send inspectors back to the North African nation to wrap up disposal operations as soon as possible.
In addition to the chemical and nuclear materials, the United States is "in the early stages" of securing Libya's shoulder-fired missiles and other conventional weapons, according to Kirk.
"I think that aggressive U.S. action on that is warranted given how many are out there," he said without elaborating. An estimated 20,000 such weapons have gone missing during the months-long insurgency.
The U.S. State Department has one official on the ground in Libya, as well as five contractors who specialize in "explosive ordnance disposal," working with the Transitional National Council to find the pilfered missiles, White House spokesman Jay Carney told reporters on Tuesday.
Kirk predicted that fighting would wrap up by the end of October. However, he expressed concern that Qadhafi loyalists who escaped to neighboring Algeria and Niger could conduct "cross-border raids" in the future.