Senate Democrats Press For Stricter Chemical Security Requirements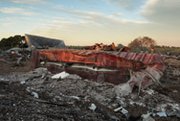 Senate Democrats pressed an Environmental Protection Agency official on Thursday about whether the agency would tighten chemical security requirements under an executive order that President Obama issued last year.
Senator Edward Markey (D-Mass.) inquired whether the agency would mandate that commercial chemical facilities replace high-risk chemicals and storage mechanisms with "inherently safer" alternatives whenever it is feasible to do so. Senator Tom Udall (D-N.M.) said creating such requirements "is really the direction we need to move in," while Senator Barbara Boxer (D-Calif.) said an interagency group that is considering such requirements is not moving fast enough.
However, Republicans and industry officials have long opposed the prospect of the government making such inherently-safer-technology demands. Senator John Barrasso (R-Wyo.) said on Thursday that federal agencies should focus on properly enforcing existing rules rather than creating new ones.
Markey noted that he introduced legislation that would have required inherently-safer-technology mandates in 2009 when he was a member of the House.
At the time, administration officials said they supported such measures, Markey said. But the Obama team's position seemed less clear this week.
During a Thursday hearing of the Senate Environment and Public Works Committee, EPA Assistant Administrator Mathy Stanislaus was noncommittal on the prospect of new mandates.
He noted that an interagency work group had identified inherently-safer-technology requirements as one of several options the government could pursue under last year's presidential executive order. The group is scheduled to make formal recommendations to the White House in May, he said.
This explanation did not appear to satisfy Markey, who recently assumed a spot on the environment committee vacated when Obama appointed former Senator Max Baucus (D-Mont.) to the post of U.S. ambassador to China.
"Why is your answer not 'yes'?" Markey asked when Stanislaus did not promise support for the mandates.
Boxer said she was unsatisfied with the pace of work by the interagency group, which includes officials from the Homeland Security Department, Environmental Protection Agency, Occupational Safety and Health Administration and others. She noted that Obama had issued the executive order last year in response to a catastrophic explosion at a chemical facility in Texas and that, since then, additional chemical mishaps had occurred in Louisiana and West Virginia.
She said the Environmental Protection Agency already had the authority to make stricter requirements under the Clean Air Act and that the U.S. Chemical Safety Board had recommended such a move.
"I call on the working group to get busy -- they're not moving as fast as I would like to see," Boxer, the committee chairwoman, said at the conclusion of Thursday's hearing.
The pressure on the Environmental Protection Agency to make new requirements comes as the chemical industry is backing a House bill aimed at extending the life of the Homeland Security Department's Chemical Facility Antiterrorism Standards.
The DHS program does not mandate the use of inherently safe technology, and some House Democrats and labor union officials have called it inadequate.
About
Lawmakers are urging new rules be issued under an existing Obama executive order.
Countries