Taiwan Ready to Forgo Nuclear Fuel-Making in U.S. Trade Pact Renewal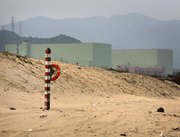 WASHINGTON -- The government of Taiwan is prepared to renounce any right to produce nuclear fuel in a forthcoming renewal of its 40-year-old atomic energy cooperation agreement with the United States, according to officials from both nations (see GSN, May 4).
If Taiwan proceeds as expected, the East Asian island nation would be the first U.S. nuclear energy partner state to make such a pledge since the United Arab Emirates promised in a 2009 trade agreement that it would not enrich uranium or reprocess plutonium on its territory.
The UAE accord has been widely hailed as a significant step for nuclear nonproliferation. The Obama administration three years ago dubbed it the "gold standard" for future atomic trade agreements around the globe.
"This is proof that there are at least two countries -- and probably more -- out there that are willing to undertake a legally binding gold standard in their nuclear cooperation agreement," one congressional source said on Wednesday. "[It] helps establish a new global precedent that enrichment and reprocessing aren't necessary for a truly civil nuclear program."
Lacking permission to address the issue publicly, this source and other Capitol Hill aides agreed to be interviewed for this article on condition of not being named.
Since the UAE agreement was inked, senior administration officials have been divided over whether the gold standard should become the norm for additional nuclear commerce pacts or if, instead, this type of restriction on activities should be included only on a "case-by-case" basis.
State and Energy department officials adopted the latter policy early this year, but immediately drew sharp criticism from Democrats and Republicans alike for backing away from a potentially useful nonproliferation tool (see GSN, Jan. 23).
Enrichment and reprocessing can be useful for peaceful atomic energy -- the focus of such trade pacts -- in terms of producing fuel for nuclear power plants. It also could open the door, though, to the diversion of fissile material for clandestine efforts to develop an atomic weapon. By contrast, a renunciation of these activities could boost confidence that a partner nation would not build an illicit bomb, and help hold other states accountable for their nuclear activities.
The administration recently suspended implementation of the case-by-case negotiating policy and threw the matter back into interagency review. A White House decision regarding when and how vigorously to pursue the gold standard remains pending, well placed sources said.
Meanwhile, State Department officials last summer began coordinating with counterparts from Energy and other federal agencies on proposed language for the Taiwan trade pact, which is to replace an existing accord that expires in 2014, Washington officials said.
Foggy Bottom's initial draft included a provision that Taiwan would not produce any nuclear fuels, and in return it would win continued access to sensitive U.S. nuclear energy materials, technologies and information, according to government correspondence obtained by Global Security Newswire through a Freedom of Informational Act request.
The State Department circulated proposed Taiwan pact language last August, but a month passed before Energy officials had a chance to review it, Richard Goorevich, an Energy senior policy adviser, said last September in an e-mail message sent to two other officials at his agency.
"State Department did include essentially the no-ENR language from the UAE agreement in the text," Goorevich told his colleagues, Joyce Connery, then a senior adviser to Deputy Energy Secretary Daniel Poneman, and Sean Oehlbert, an Energy program manager and policy adviser. Connery now directs energy policy on the National Security Council staff.
The term "no-ENR" refers to a prohibition on enriching uranium or reprocessing plutonium.
Goorevich, a 19-year career Energy official, asked Connery and Oehlbert to "keep in mind" that the no-enrichment-or-reprocessing "language is not in the current U.S.-Taiwan 123 agreement and has not been included [in] recent renewals, such as the U.S.-Australia renewal" (see GSN, Nov. 18, 2010). Additional text was redacted from the released memo because it was said to contain privileged or advisory content.
"I think it's no problem for my country to follow these provisions, to agree to that, because we have no such facility to reuse fuel" and "no plans to build such a facility," one Taiwanese government official said this week, declining to be named because of diplomatic sensitivities. "Our government insists on peaceful use of nuclear energy, so we don't want to raise any proliferation concerns."
Taiwan operates six nuclear power plants and has pursued the construction of two advanced reactors. The United States has been the sole supplier of atomic technologies and materials to the East Asian state, which derives one-fifth of its electricity from nuclear energy.
The State Department this week would not address questions about the status, content or timing of the anticipated nuclear trade renewal agreement with Taiwan.
Instead, the department issued a statement noting that talks had not yet begun, but owing to Taiwan's unique diplomatic status, would be conducted between the American Institute in Taiwan and the Taipei Economic and Cultural Representative Office in Washington. These organizations serve as virtual embassies in light of China's claim of sovereignty over the long-estranged province.
The Taiwanese official said the U.S. government had not yet shared with Taipei its draft language for the forthcoming renewal agreement, pending a White House policy decision on the instances in which it will seek the gold standard worldwide. Washington insiders have told GSN that the policy debate could be resolved at any time, but some have voiced doubt about any public announcement prior to the November presidential election (see GSN, June 14).
That could leave talks with Taiwan hanging for at least another four months.
"After they resolve [the gold-standard question and other] issues, they can issue a draft agreement to us," the Taiwanese official said.
Another question is the duration of the replacement accord, the official said. Taiwan is open to the idea of signing an agreement without an expiration date, meaning that its new nonproliferation pledge could be in force indefinitely. While a pact with unlimited duration in this instance might lend reassuring predictability to both the nuclear industry and nonproliferation advocates, it was unclear whether the administration would agree to it, Washington sources said.
Internal Obama administration dissent over the nuclear trade negotiating policy goes back to fall 2010, when Poneman, the Energy deputy, squared off with then-Deputy Secretary of State James Steinberg (see GSN, Jan. 25, 2011).
Steinberg, who subsequently left the government in July 2011, is reported to have argued that advocating for the gold standard around the world would help Obama honor his 2009 pledge in Prague to pursue "an end to the dedicated production of weapons-grade materials."
Poneman's view, echoed by U.S. industry advocates, is said to been that demanding a gold-standard promise could alienate partner nations. Rather than agree to Washington's terms, such interlocutors could easily send their business to international competitors that impose fewer restrictions on nuclear sales, including Russia and France.
One interagency compromise that appeared to gel over the past year was to maintain the gold standard in the Middle East, where the United Arab Emirates retains a right to withdraw its pledge if a U.S. pact with another country in the region allows that partner to reprocess or enrich.
There are strong objections to a region-by-region approach in some quarters, though, fueled by concerns about singling out one region for stricter terms while allowing others around the world more latitude to pursue less proliferation-resistant policies.
Internal administration tussles over the matter continue to this day, ultimately leaving the matter for the White House to adjudicate. In the meantime, efforts aimed at concluding nuclear trade deals with Saudi Arabia, Jordan and Vietnam have not yet resulted in agreements (see GSN, Jan. 12 and July 28, 2011).
Either side of the gold-standard issue might well use Taiwan's embrace of a pledge to reinforce its own position, according to aides on Capitol Hill, where lawmakers are similarly split between nonproliferation proponents and industry backers.
On the one hand, Energy's advocacy of a case-by-case tack to applying the gold standard worldwide could be advanced by a case in which a country such as Taiwan volunteers to take the pledge, even as a neighbor such as South Korea rejects the idea of a comparable promise.
On the other hand, if Taiwan agrees to no-enrichment-and-reprocessing text in its upcoming renewal agreement, momentum might build for making the pledge a relatively standard feature of future cooperation pacts.
In any case, Taiwanese officials are eager to review the U.S. draft and begin bilateral talks, so that there is no time gap between the old and new agreements.
"Our people are quite anxious because this agreement will expire in less than two years," said the official interviewed this week, noting that Taipei has pressed since 2010 for the talks to begin. "We need time to negotiate," as well as to gain legislative approval of the future pact in both nations, the source said.
When Taipei envoys first asked State Department officials when they might be given Washington's draft version of the agreement, "they said July 2011," the Taiwan government figure said this week. "It has been one year that we haven't seen anything. So we are nervous and anxious."
The nuclear energy industry's lobbying arm recently said nuclear fuel-making renunciations of the kind Taiwan now appears ready to adopt would be fine for selected nations, but the United States should not demand such pledges across the board at the risk of harming the business sector.
"Bilateral commitments in Section 123 agreements are an option that should be used judiciously," the Nuclear Energy Institute said in a June 14 statement provided to GSN, referring to pacts governed by the Atomic Energy Act. "When a trading partner will accept additional restrictions on [reprocessing and enrichment] in a Section 123 agreement, the U.S. should pursue including these terms. The U.S. should not insist on these additional terms, however, if they will result in the failure to conclude a Section 123 agreement."
"NEI makes a good point," one Capitol Hill source said. "The U.S. ought to have a policy to press for the gold standard in each negotiation and make for only limited exceptions."
Another congressional staffer noted that a Taiwan pledge could be "helpful in setting a precedent for South Korea, which is the really difficult case because they're demanding a right to reprocess."
Seoul "wants to get into the nuclear fuels manufacturing business," the aide added. "This is something the U.S. is strongly opposed to, but hasn't figured out how to tell the South Koreans 'no.'"
Henry Sokolski, executive director of the Nonproliferation Policy Education Center, called Taiwan an "ideal candidate" for a gold-standard pledge.
With its dependency on Washington for nuclear energy technologies and materials, "if ever there were a country that might respond positively to such an American request, it would have to be Taiwan," he said in a brief interview.
About
WASHINGTON -- The government of Taiwan is prepared to renounce any right to produce nuclear fuel in a forthcoming renewal of its 40-year-old atomic energy cooperation agreement with the United States, according to officials from both nations.
Countries