Third Nuke Test May Allow North Korea to Miniaturize Bombs: Expert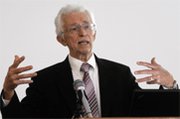 A third nuclear test is likely to give North Korea the capacity to build nuclear warheads compact enough to be fitted to a missile, the Yonhap News Agency quoted a U.S. expert as saying on Wednesday (see GSN, Dec. 13).
"If North Korea conducts a third nuclear test, that will be very risky. If another of the North's nuclear tests is successful, I believe that North Korea will succeed in the necessary miniaturization within a few years," said Siegfried Hecker, who last year was given a tour of the Stalinist state's new uranium enrichment plant at the Yongbyon nuclear complex.
The aspiring nuclear power has conducted two tests to date, in 2006 and 2009, and is understood to possess enough processed plutonium to fuel six warheads. Uranium enrichment offers another avenue to generating nuclear-weapon material, though the North says its operations is intended to produce fuel for a light-water reactor.
"It is critical at this point to bring Pyongyang back to the table to stop expanding its nuclear weapons programs," Hecker said to a Seoul audience. "The most urgent step is to stop it from conducting another nuclear test and more missile tests."
Pyongyang in October 2010 unveiled its new Musudan intermediate-range ballistic missile, which can be transported by roads, thus making it more difficult to detect. Hecker said the missile could carry a nuclear payload.
South Korea's intelligence agency has said the North could detonate another nuclear test device, though there are no indications that such an event is being readied.
A more tricky but lower priority issue is finding a way to block the North from manufacturing significant stocks of enrichment centrifuges, Hecker said (Yonhap News Agency, Dec. 14).
Pyongyang's recently claimed advances in building the light-water reactor and enriching uranium to low levels show that diplomatic action is badly needed to halt its nuclear advancement, the Korea Times quoted Hecker as saying.
"The first and most important thing is that it does not get worse. And it got worse in 2011," Hecker said. "We (need to) engage to stop the threat escalation."
Trust-building steps that the North could take would involve halting proliferation activities and abstaining from building any more nuclear weapons or carrying out further tests, the Stanford University specialist said. These actions could be rewarded with more engagement from the United States over the Stalinist regime's security worries (Kim Young-jin, Korea Times, Dec. 14).
Hecker said it was his opinion that the unfinished atomic reactor is probably being built for nonmilitary activities but that it would take a minimum of 24 months to finish work on the facility, the Korea Herald reported.
"Speaking as a technical person, there is no question they have designs for miniaturized warheads. There are lots of designs that can be looked at on the Internet. Those do not make a miniaturized bomb," the co-director of Stanford University's Center for International Security and Cooperation said.
The North Koreans "will probably need more tests, missile flight tests for sure" in order to wield a credible nuclear deterrent, Hecker said (Kim Yoon-mi, Korea Herald, Dec. 14).
Meanwhile, the Obama administration's special representative for North Korean human rights is expected this week to hold talks with Pyongyang's point man for U.S. engagement, Ri Gun, Agence France-Presse reported.
Special envoy Robert King would meet with Ri in Beijing for discussions about potentially renewing delivery of U.S. food to the impoversished North, a diplomatic insider told Yonhap.
"To my knowledge, special envoy King will hold a meeting with Ri Gun, who is now in Beijing, to discuss the issue of nutrition assistance," the unidentified source said. A successful meeting could lead to a third round of U.S.-North Korean talks on resuming the long-stalled six-nation talks on the North's nuclear program, the source added (Agence France-Presse/Yahoo!News, Dec. 14).
About
A third nuclear test is likely to give North Korea the capacity to build nuclear warheads compact enough to be fitted to a missile, the Yonhap News Agency quoted a U.S. expert as saying on Wednesday .
Countries