Today's Threats Demand U.K. Keeps Nukes: Cameron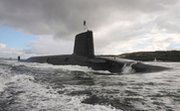 WASHINGTON – The threats posed by nations such as Iran and North Korea demand that the United Kingdom fully revitalize its nuclear arsenal, British Prime Minister David Cameron said on Wednesday.
British leaders, lawmakers and arms control advocates are debating the necessity of plans to replace all four British Vanguard-class ballistic missile submarines that carry the nation's nuclear deterrent.
Some argue the vessels and their Trident missiles are an obsolete holdover from the Cold War. Others say the United Kingdom could ensure its security with a smaller, less-expensive nuclear fleet.
While a final decision is not expected before 2016, London has already directed several billion dollars toward the replacement project that is strongly supported by Cameron's government-leading Conservative Party.
"We need our nuclear deterrent as much today as we did when a previous British government embarked on it more than six decades ago," Cameron wrote in a London Telegraph commentary. Of course, the world has changed dramatically. The Soviet Union no longer exists. But the nuclear threat has not gone away."
There has been no reduction over the last few years in the number of nations with nuclear arsenals, "and there is a real risk of new nuclear-armed states emerging," according to Cameron.
He cited Iran's atomic advances and the February nuclear test in North Korea, which could have enough plutonium for several additional weapons and in 2012 rolled out a purported ICBM.
Tensions between the North and the United States and its regional partners have escalated rapidly in the wake of Pyongyang's third underground atomic blast and the U.N. Security Council sanctions approved in response. Pyongyang has threatened nuclear strikes against South Korea and the United States, and on Thursday was said to have moved a medium-range missile to its east coast.
"Can you be certain how that regime, or indeed any other nuclear-armed regime, will develop?" Cameron asked. "At the end of the day these issues are matters of judgment. My judgment is that it would be foolish to leave Britain defenseless against a continuing, and growing, nuclear threat."
Cameron dismissed concerns about the expense of the "like for like" submarine replacement project, which would ensure the nation is able to keep at least one vessel on patrol at all times. The effort is estimated to cost $30 billion or significantly more.
The government now only directs 5 to 6 percent of its defense spending toward nuclear arms operations, he said. The price tag for operating the new vessels would be roughly the same, according to the prime minister.
"I have seen no evidence that there are cheaper ways of providing a credible alternative to our plans for a successor and I am simply not prepared to settle for something that does not do the job," he wrote.
That suggests little chance for compromise based on an "analysis of alternatives" being readied by the Liberal Democrats, the junior partner in London's coalition government. There have been suggestions that more limited options for keeping some deterrent could include building fewer boats or deploying nuclear-armed cruise missiles on existing attack submarines.
"There are those who say the only way to protect ourselves properly is to get rid of nuclear weapons entirely. Of course, a world without nuclear weapons is a fine ideal," Cameron stated. "But in the absence of an agreement to disarm multilaterally, those who want us to give up our nuclear weapons entirely must provide evidence that there is no prospect of the U.K. facing a nuclear threat. I cannot make that argument."
A London Guardian commentator on Wednesday countered that a "proper debate" on the British deterrent is blocked by "inertia, vested interests and concern about moving the country into 'unknown political and military territory,'"
"Can it be seriously argued that Britain's influence in the world relies on its possession of a nuclear-armed submarine permanently on patrol somewhere in the Atlantic?" stated defense and security writer Richard Norton-Taylor. "The next question is: who does it deter? Presumably not the terrorists regarded by MI5 and MI6 as the greatest threat to British security (since well before the invasion of Iraq 10 years ago)."
About
WASHINGTON – The threats posed by nations such as Iran and North Korea demand that the United Kingdom fully revitalize its nuclear arsenal, British Prime Minister David Cameron said on Wednesday.
Countries