Treaty Battle May Presage Key GOP Senator's National Security Role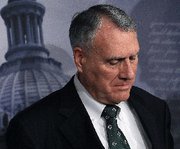 WASHINGTON -- On the heels of the Senate action yesterday to ratify a major U.S.-Russian nuclear arms control treaty, political and policy experts are debating how the vote might affect the future political clout of Senator Jon Kyl (R-Ariz.), who led his party's opposition to the accord (see GSN, Dec. 22).
After declining for months to declare how he would vote on the New START agreement, Kyl ultimately failed to convince enough lawmakers of his view that the ratification question should be put off until the 112th Congress convenes in January, so that newly elected senators might have a say.
Some pundits are projecting that the battle has left Kyl with a bit less of his longtime influence on national security matters, having sided against top military brass and all five living former secretaries of State for Republican presidents.
"I think Kyl's been seriously weakened by this effort," said John Isaacs, executive director of the Council for a Livable World, who advocated New START ratification. "Ultimately you measure a leader by victories and defeat, and this is clearly a defeat for Senator Kyl."
Others, though, say the No. 2 Senate Republican's treaty stance signals a continuing role in opposing some of President Obama's other foreign policy initiatives during the coming year. As of January, his party will have picked up a net six new seats in the Senate, potentially strengthening the Arizona lawmaker's hand.
"This episode may actually end up making Senator Kyl more important on these issues in the next Congress," said Christopher Ford, a State Department arms control official during President George W. Bush's administration. "Kyl defined and led the debate, and while he ultimately voted 'no,' he did so more for process and timing reasons than substantive ones."
Kyl's spokesman did not respond to a request for comment.
Thirteen Republican lawmakers defied Kyl, their party whip, in favor of ratifying the New START agreement, which the Senate approved in a 71-26 vote. At least nine GOP votes were needed, in addition to support from all present Senate Democrats, for New START to proceed toward implementation (see related GSN story, today).
Under the replacement to the 1991 Strategic Arms Reduction Treaty, Russia and the United States will each cap deployed nuclear warheads at 1,550 and total strategic delivery vehicles at 800.
In the pivotal vote, GOP defectors included Senator Lamar Alexander (Tenn.), the Senate's third-ranking Republican, as well as a number of lawmakers who declared their support for the treaty only during the legislative endgame. Late-breaking "yes" votes included Senator Mike Johanns (R-Neb.), who on Tuesday had voted along with most of the Republican caucus against ending debate over the treaty.
An early sign that Kyl was losing some GOP support for his calls to delay the ratification process was the widespread eye-rolling in response to his December 14 admonition against working through Christmas.
"It is impossible to do all of the things that the majority leader laid out ... without disrespecting one of the two holiest of holidays for Christians and the families of all of the Senate, not just the senators themselves but all of the staff," he told reporters at a Capitol Hill "stakeout."
In what appears to have been a watershed moment, Vice President Biden publicly lost patience with the call by Kyl -- echoed by some additional Republicans -- to avoid ruining their holiday break.
"Don't tell me about Christmas. I understand Christmas. I was a senator for a long time and I've been there many years where we go right up to Christmas," Biden told MSNBC on December 15. "There's 10 days between now and Christmas. I hope I don't get in the way of your Christmas shopping, but this is the nation's business. This is the national security at stake. Act."
Ultimately, it appeared a number of GOP senators were swayed by the argument that an agreement that allows for modest reductions in nuclear arms -- down from 2,200 required by 2012 under an earlier accord -- might be most important for the role it is expected to play in U.S.-Russian relations.
Senate rejection of the agreement could have triggered a troubling setback in relations that could spill over into other U.S. nonproliferation priorities, such as the effort to stem nuclear efforts in Iran and other nations, the White House successfully argued.
The legislative action was a major foreign policy success for Obama and Senate Foreign Relations Committee Chairman John Kerry (D-Mass.), the president's chief Senate ally on the measure. The president is sure to cite New START ratification as one of his signature achievements as the 2012 presidential elections draw nearer.
Kyl said early this week, though, that there is little to be proud of in the arms control measure.
"The administration did not negotiate a good treaty," he groused on Tuesday, after it became clear the White House had secured enough Senate votes to pass New START. "They went into negotiations, it seems to me, with the attitude with the Russians just like the guy that goes into the car dealership and says, 'I'm not leaving here until I buy a car.'"
Senate Minority Leader Mitch McConnell (R-Ky.), who in November said his party's "single most important" objective was Obama's defeat, on Sunday declared that he would oppose the chamber's approval of the agreement. Kyl made a similar announcement the same day.
"That the minority leader and other key Republicans joined Kyl in objecting" to holding a ratification vote before January "suggests that Kyl's clout on national security issues remains intact and may even increase," said Henry Sokolski, executive director of the Nonproliferation Policy Education Center.
The Arizona senator's long-awaited declaration came after several months in which he represented his party in negotiations with the White House on funds for keeping the aging U.S. nuclear arsenal viable.
The talks resulted in the Obama administration's commitment to request more than $85 billion over the next decade to build new nuclear research and production facilities and overhaul aging warheads (see GSN, Nov. 15). That would include a new $4.1 billion add-on over the next five years, aimed primarily at ensuring there would be sufficient dollars for constructing new facilities for research and processing of warhead uranium and plutonium.
Administration leaders have said they would follow through with the increased budget request for the nuclear complex regardless of whether the Senate ratified New START (see GSN, Dec. 9).
Still, senior National Security Council official Gary Samore complained last month that Kyl withheld support for the pact even after embracing the funding plan (see GSN, Nov. 19). Shortly thereafter, other White House officials chimed in to question whether Kyl had acted in good faith during the bipartisan talks (see GSN, Nov. 22).
Until the past few weeks, the administration's principal strategy for getting New START approved was to win over Kyl, believing he could deliver a strong bipartisan majority vote for the treaty.
In the end, the White House accepted the idea of achieving ratification without the traditionally lopsided majorities seen in Senate votes on arms control treaties, Sokolski noted. The 1991 START agreement won U.S. Senate approval by a vote of 93-6, while the 2002 Moscow Treaty was ratified in a 95-0 tally.
"I would say to you that, in today's Washington, in today's Senate, 70 votes is yesterday's 95," Kerry told reporters at a Tuesday news conference.
"The White House had to make a good-faith effort to win Kyl's support," said Jeffrey Lewis, an arms control expert at the Monterey Institute of International Studies. "As it turned out, Kyl's inability to take 'yes' for an answer ended up fueling the successful narrative that the opposition to New START was partisan, rather than substantive."
Yesterday, many treaty advocates were pinching themselves, unable to fully fathom the idea that they had pulled off the legislative victory despite the powerful Arizona senator's opposition.
"He kept the White House -- and Kerry, as well -- negotiating because everyone believed there could not be a successful vote without Kyl giving his assent," Isaacs said.
The Obama team achieved success by furiously negotiating political deals behind the scenes with Republican lawmakers who had remained on the fence, according to congressional aides (see GSN, Dec. 16). As the vote neared, Obama, Biden and Secretary of State Hillary Clinton personally lobbied swing votes to support the agreement.
Some congressional arrangements came in the form of GOP amendments to the Senate ratification resolution, including measures calling for continued work on missile defenses, nuclear-platform modernization and new negotiations with Russia on curbing tactical nuclear-weapon stocks. Details of other efforts at political back-scratching in support of New START approval might not be known publicly for some time.
Since leading his successful effort to reject Senate ratification of the Comprehensive Test Ban Treaty in 1999, Kyl has served as one of his party's most respected voices on defense and arms control matters. In December 2007 he was selected to become the minority whip, the Republican leader charged with rounding up votes and enforcing party discipline on major issues.
National security matters facing Washington in the coming year promise to include the U.S.-led war in Afghanistan, as well as multinational efforts aimed at curtailing the nuclear programs of Iran and North Korea. Congress might also tackle changes to the 1954 Atomic Energy Act to encourage tighter nonproliferation controls in nuclear trade agreements (see GSN, Nov. 3).
Can the junior Arizona senator hope to make an impact on these issues?
On New START, Kyl brought 25 "no" votes along with him, but "he couldn't control his own Republican caucus," Isaacs said. "Kyl was the 'it' Republican senator on national security, but his time has passed."
Ford, however, insisted that Kyl would continue to hold sway. He noted that the senator in July had called the treaty "benign," even as he raised a number of worries about how it fit into Obama's long-term vision for global nuclear disarmament. Kyl's somewhat supportive earlier assessment ultimately proved "critical for getting [the pact] Republican votes," said the former State Department official.
"In a soon-to-be more conservative Senate, Kyl may end up more influential than ever," said Ford, now a senior fellow at the Hudson Institute. He demonstrated during the New START debate that he could serve "as a central conduit through which hawkish principles can be vindicated in negotiations with a dovish White House."
Following Kyl's failure to block New START, the lawmaker might bolster his national security influence by offering "sound, specific suggestions to promote nonproliferation and arms restraint," Sokolski said.
The senator offered some indications of his interest in that tack just this week.
"What we ought to be doing is focusing on Iran and North Korea and other places where maybe there is proliferation going on and a desire to develop nuclear weapons that could potentially attack the United States," Kyl told Fox News Channel's "Happening Now" on Monday. "This is just a treaty about strategic offensive weapons between Russia and the United States. It doesn't have anything to do with keeping terrorists from getting nuclear material or weapons."
Lewis said, though, that Kyl is left damaged by his performance during the New START debate, where he proved to be indecisive and unreliable.
"Kyl drove a hard bargain, but couldn't make up his mind at the crucial point," he told Global Security Newswire. "GOP pragmatists seem to have concluded he can't close [compromise] deals, while the Tea Party will hate him for even trying."
Ford offered another takeaway: that, in the end, a procedural disagreement among Republicans is not that big a deal.
"The endgame was more about whether to be upset at the administration's handling of ratification than about whether the agreement itself was a national security catastrophe," he said. "With the final dispute defined in such terms, ratification became something upon which principled conservatives could disagree -- and this made ratification possible."
Treaty supporters offer a less rosy characterization of the Arizona lawmaker -- one in which Kyl tried quite hard to block New START ratification but simply failed.
"There is no question that Senator Kyl lost considerable credibility and respect during this process," said Joseph Cirincione, a former Democratic House staff aide who is now president of the Ploughshares Fund. His effort "may gain him accolades from the far right, but it diminishes his ability to broker future bipartisan deals. It also cost him the respect of many in his own party."
John Podhoretz, a conservative columnist and editor of Commentary magazine, appeared to agree that Kyl's inability to prevail on New START could have ramifications during the next Congress.
"It will raise to some senators and staffers in the GOP the possibility that, on foreign policy at least, they need to be somewhat skeptical of the voices of some on the right whose counsel might now seem untrustworthy and politically imprudent to them," he wrote in a December 21 essay.
Obama, by contrast, appears at least temporarily buoyed following the bruising months-long battle, he said.
"The relative intensity of the opposition just makes the president's victory all the sweeter and helps make the argument that he has recovered his political footing after the November election more quickly than anyone expected," Podhoretz wrote. "That is just a matter of perception -- the Republican takeover of the House is looming, and dark days are coming for him legislatively -- but perception matters in politics."
"I think what's happened over the last several weeks is not a victory for me, it's a victory for the American people," Obama said at a news conference yesterday of New START and his other post-election legislative successes. "And the lesson I hope that everybody takes from this is that it's possible for Democrats and Republicans to have principled disagreements; to have some lengthy arguments but to ultimately find common ground to move the country forward."
About
WASHINGTON -- On the heels of the Senate action yesterday to ratify a major U.S.-Russian nuclear arms control treaty, political and policy experts are debating how the vote might affect the future political clout of Senator Jon Kyl (R-Ariz.), who led his party's opposition to the accord (see GSN, Dec. 22).