U.N. Said Investigating Claims North Korea Received Chinese Missile Launcher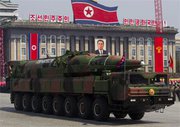 The United Nations is said to be probing whether China exported long-range missile launcher technology to North Korea in contravention of multiple U.N. Security Council resolutions, Agence France-Presse reported on Thursday (see GSN, April 18).
Pyongyang on Sunday unveiled a large new missile that was conveyed on a road-mobile launch platform, which multiple international analysts have said shares many similarities with a transporter-erector-launcher developed by the China Aerospace Science and Industry Corp.
An anonymous U.N. official with ties to the Security Council panel with oversight on North Korean sanctions told Jane's Defense Weekly that an affiliated expert committee was "aware of the situation and will pursue inquiries."
Assuming the North used Chinese blueprints for the mobile missile launcher -- or simply the Chinese system itself -- whether Beijing could be found to have flouted Security Council rules would be determined by when Pyongyang acquired the designs. The council approved sanctions targeting North Korea's nuclear and missile programs in 2006 and 2009.
The U.N. official told Jane's that a desire not to antagonize China on sanctions violations could mean not much will be done on the matter.
"There is no doubt it came from China, (but) whether it was produced as a licensed or unlicensed vehicle is an open question," Stanford University analyst Nick Hansen said in the Jane's article (Agence France-Presse/Google News, April 19).
Analysts said it would be difficult to concretely establish that China sold the mobile launcher technology knowing it would be used in North Korea's missile program or even knowing the end user would be Pyongyang, the Associated Press reported on Thursday.
The 16-wheel transport vehicle has other uses such as in the search for new petroleum fields. Furthermore, Pyongyang could have purchased the vehicle from a third-party country.
"It's very possible there was no intended violation of sanctions by China on this piece of equipment," Stockholm International Peace Research Institute proliferation analyst Peter Wheelman said.
"The vehicle could have been re-exported to North Korea from a third country, such as Pakistan, which is known to have used Chinese chassis for its medium-range ballistic and other missiles, or North Korea could have used a front company to obscure that it was the buyer," he said. "Also it is possible that it was supplied to North Korea for civilian purposes such as construction."
International Assessment and Strategy Center China military expert Richard Fisher, however, said he was nearly certain the transporter-erector-launcher seen in Pyongyang on Sunday was manufactured in China knowing it would be used by North Korea.
"I think that [the China Aerospace and Industry Corp.] has put together as many as six or seven of these vehicles and that maybe half of them have been sold to Pyongyang," the analyst said.
Chinese Foreign Ministry spokesman Liu Weimin on Thursday insisted to reporters that there had been no U.N. sanctions infractions by Beijing (Peter Enav, Associated Press/Yahoo!News, April 19).
Meanwhile, South Korean news organizations are reporting some 12 Iranian officials from a company that builds space orbiting vehicles and missiles were on hand last week to observe North Korea's failed attempt to launch a satellite. Experts believe the Iranian representatives' attendance is one more sign of the close ties between Pyongyang and Tehran's nuclear and missile development efforts, the Christian Science Monitor reported.
Korea Institute for Defense Analyses analyst Baek Seung-joo said, "North Korea and Iran are in close cooperation about long-range missiles" and "there is the high possibility they sell nuclear technology to each other. At least their people exchange information."
Pyongyang more than a decade ago provided Iran with intermediate-range Nodong ballistic missiles that formed the basis for Tehran's development of the Shahab missile class.
"This was always a commercial relationship on the part of North Korea," Arms Control Association senior fellow Greg Thielmann said. "Iran wanted to adapt these missiles and make them their own."
Institute for Science and International Security President David Albright said the Iranian officials from the Shadid Hemmat Industrial Group, which builds ballistic missiles, observed the launch of North Korea's Unha 3 rocket because they "would want data to see how it was going." The rocket broke up and fell into the Yellow Sea within minutes of takeoff.
"North Korea probably still sells things to Iran -- components and technology," according to Albright.
He speculated the Iranian officials could have been watching to see how the North was doing in its development of controlled missile flight capabilities, an area where Tehran has faced difficulties.
Regardless of the failed rocket test, experts do not think the system was particularly advanced. The Unha 3's initial booster stage was comprised of four Nodongs that required precision ignition.
"The reason the first stage of the rocket consisted of four Nodongs was evidently to compensate for the inability of North Korean engineers to develop a large enough rocket motor to power the first stage with just one or two missiles," Albright said (Donald Kirk, Christian Science Monitor, April 18).
About
The United Nations is said to be probing whether China exported long-range missile launcher technology to North Korea in contravention of multiple U.N. Security Council resolutions, Agence France-Presse reported on Thursday.
Countries