U.S. Calls Off Food Assistance to North Korea Ahead of Rocket Launch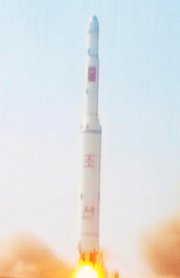 The U.S. Defense Department on Wednesday said it was putting on hold a program to send food assistance to North Korea as a consequence of the regime's plans to send a long-range rocket into space next month, Reuters reported (see GSN, March 27).
While Pyongyang asserts the satellite launch will be peaceful in nature, Washington and other governments see the effort as a front for another long-range ballistic missile test banned by the U.N. Security Council.
"This planned launch is highly provocative because it manifests North Korea's desire to test and expand its long-range missile capability," acting Assistant Defense Secretary Peter Lavoy testified at a House Armed Services Committee hearing.
"We believe this reflects their lack of desire to follow through on their commitments, their international commitments, and so we've ... been forced to suspend our activities to provide nutritional assistance to North Korea," he continued.
The provision of 240,000 metric tons of food aid to the North was agreed to in bilateral negotiations last month. In return, Pyongyang promised to shut down uranium enrichment and other atomic activities at the Yongbyon complex and to refrain from carrying out new long-range missile and nuclear tests.
The deal for a brief time raised prospects that six-nation talks aimed at permanent North Korean denuclearization could finally be relaunched after a freeze of more than three years. Those hopes appeared dashed after the Kim Jong Un regime declared it would send a weather satellite into orbit between April 12 and 16.
North Korea on Tuesday again defended its right to carry out the rocket launch, which it claimed would not violate the terms of its agreement with the Obama administration.
Satellite photographs captured last week and disseminated by GlobalSecurity.org show a launch platform and tower but no rocket in place at North Korea's Dongchang-ri missile launch facility . An anonymous U.S. official said there were clues the North was preparing the facility for an operation.
"The U.S. has seen indications that the North Koreans are preparing to launch a long-range rocket," the official said.
South Korea and the United States are keeping close tabs on the situation, said Pentagon spokeswoman Leslie Hull-Ryde, without providing details on just what intelligence the two allies have gathered (Paul Eckert, Reuters, March 29).
Falling rocket detritus could harm or kill people, the Associated Press quoted Lavoy as saying.
"A number of countries are potentially affected," the official told House lawmakers. "The debris could fall on their countries; could cause casualties."
Two previous declared North Korean rocket launches believed to involve the developmental long-range Taepodong 2 missile ended with the systems crashing down in the Pacific Ocean.
"This is now an issue that not only concerns the South Koreans, and of course, us and the Japanese. Everybody in Asia-Pacific has become concerned about North Korea's growing missile capability, especially as they're continuing to develop their nuclear weapons capability," Lavoy said.
The head of U.S. forces in South Korea, Gen. James Thurman, said if "left unchecked" the North's continuing missile operations would represent a significant danger to the United States. The general did not offer a timeline at the congressional hearing for when the Stalinist state would likely wield a missile capable of striking the United States (Matthew Pennington, Associated Press/Daily Star, March 28).
Relying on an anonymous source, the Tokyo Shimbun newspaper on Thursday said the North had started inserting liquid fuel into the rocket, according to Agence France-Presse.
"The launch is coming closer. The possibility is high that the launch date will be set for April 12 or 13," the Japanese government-affiliated source said.
Pyongyang insists its indigenously developed satellite would be used to transmit images of North Korean tree cover and other raw materials. The state-controlled Korean Central News Agency on Wednesday said the satellite would be in orbit for two years.
Space specialists and international news organizations have been invited to watch the satellite launch, according to North Korea (Kyoko Hasegawa, Agence France-Presse I/Google News, March 29).
A satellite picture snapped on Wednesday by DigitalGlobe reveals what look like trucks close to the Dongchang-ri launch platform as well as a crane apparatus not far from the launch tower, Russia Today reported.
"It does confirm a higher level of activity within the overall facility and significant activity at the launchpad specifically," DigitalGlobe senior analyst Joseph Bermudez said. "This activity appears consistent with preparations for a satellite launch" (Russia Today, March 29).
The Philippines on Thursday said it was worried about the potential for detritus from the rocket to endanger the nation's territory. The rocket could splash down some 112 miles away from the country's largest island, Luzon, AFP reported.
"Our main concern here is the debris. If it explodes in the air, where will all that metal fall? We should know so that we will be able to warn all those who could get hit," Philippine Defense Secretary Voltaire Gazmin said (Hasegawa, Agence France-Presse).
The European Union on Wednesday urged Pyongyang to abandon the rocket firing, AFP reported.
"We remain gravely concerned on North Korea's nuclear weapons and missile programs. ... We urge North Korea to refrain from any destabilizing act," European Council President Herman Van Rompuy said following a meeting with South Korean President Lee Myung-bak (Agence France-Presse II/Channel News Asia, March 28).
About
The U.S. Defense Department on Wednesday said it was putting on hold a program to send food assistance to North Korea as a consequence of the regime's plans to send a long-range rocket into space next month, Reuters reported.
Countries