U.S.-Led WMD Interdiction Program Could do More, GOP Lawmakers Say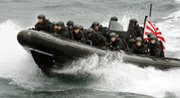 WASHINGTON -- The Obama administration is neglecting a decade-old U.S.-headed program to harness global cooperation in the fight against weapons of mass destruction trafficking, some Republicans are contending.
The Bush administration established the Proliferation Security Initiative in May 2003 with the goal of fostering a greater worldwide capability to stop the illicit movement of materials that can be used to produce biological, chemical, and nuclear weapons. At present, 102 nations have signed on to the effort.
Participating nations pledge to exchange information about suspected illicit WMD transfers and to take action to interdict unconventional weapons and related materials as they move through their territory or international waters.
It is not clear just how successful the program has been. Two top nations of proliferation concern, Iran and North Korea, continue to advance their missile and nuclear capabilities despite being under rigorous U.N. Security Council sanctions.
Seven Republican House lawmakers in a letter to the White House last week accused the Obama administration of not doing enough to address the North Korean threat. The House Armed Service Committee members said the PSI program has "languished under your administration" and called for it to be "strengthened with increased interdiction."
The committee did not respond by press time to a request for more information about how specifically the PSI program has been neglected.
Pentagon spokeswoman Lt. Col. Monica Matoush in an e-mail said details about actual interdiction operations and WMD seizures could not be publicly released as they "often involve intelligence information and foreign partner sensitivies."
The State Department also said it could not release statistics on the number of interdictions carried out via the PSI program. Foggy Bottom would not publicly comment on whether the federal sequester would impact funding to the program.
A 2012 report from Congress' Government Accountability Office faulted the Pentagon and the State Department for not properly evaluating the degree to which the program was meeting its aims and for not having an idea of the total amount of money the initiative was costing the federal government.
Auditors estimated Pentagon funding for the program to be roughly $1 million for each of fiscal years 2012, 2013 and 2014.
Thanks to the work by PSI states, a number of ships suspected of carrying WMD materials "were turned around at sea," according to Joseph DeTrani, former head of the National Counterproliferation Center.
"A few of them were going to Myanmar and then went back to port in North Korea because of the determination to do something with that," DeTrani testified last week at a House Foreign Affairs Committee hearing on North Korea's criminal activities.
In one case, PSI member Belize in late 2011 notified the United States that a North Korean ship traveling under its flag was suspected of transporting banned weapons parts to Myanmar, according to the New York Times. Belize authorities reportedly authorized the U.S. Navy to inspect the ship. When the North Korean crew objected, the Obama administration decided against physically forcing the issue out of concern it could lead to an escalation with Pyongyang. The vessel ultimately turned back from its destination.
DeTrani said he saw the PSI program as "vital" and that the United States is moving "pretty aggressively and with significant success in that area."
The initiative conducts multinational exercises several times a year that have included practice in scenarios such as gaining access to an aircraft transporting radioactive materials and boarding a vessel in international waters that is suspected of carrying WMD substances. A PSI drill in Western Africa is planned for later this month, according to a State Department calendar.
Though global participation in the interdiction initiative is strong, it is far from universal. China notably is not a member. Chinese companies are frequently mentioned as the principal conduit for North Korea's illegal import and export of weapons.
"If it is going to be implemented with any success against North Korea and the emerging North Korea-Iran nuclear relationship, it's going to have to involve China," said David Asher, who directed the Bush administration's policy against North Korean programs and financing from the National Security Council,
In a Wednesday interview, Asher said he did not agree fully with GOP criticism about the Obama administration's handling of the interdiction program. "There have probably been more interdictions of the PSI I think in the last couple of years than I think during the initial phase of the PSI in the Bush administration so I am not sure they can say it isn't being efficiently utilized," he said, without discussing details of interdictions.
The program should be improved at the leadership level, said Asher, who is now with the Center for a New American Security. "You have to have a centralized leadership structure. And I just don't know that that kind of executive (leadership), which people are trying to establish, is really in existence and being utilized."
Asher called for meetings of PSI member states with serious concerns about proliferation to be held biannually. These conferences should include a discussion of the principal black market networks that are abetting WMD smuggling and be attended by export control officials, law enforcement authorities, intelligence officials, and diplomats, among other groups, he said.
About
WASHINGTON -- The Obama administration is neglecting a decade-old U.S.-headed program to harness global cooperation in the fight against weapons of mass destruction trafficking, some Republicans are contending.
Countries