U.S. Nuclear Agency OKs License for Laser Enrichment, Despite Worries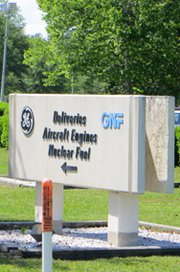 WASHINGTON -- Nuclear Regulatory Commission staff on Tuesday issued the first U.S. commercial license ever for a process in which uranium is enriched by laser, opening what many issue experts have warned could be a new chapter in the global proliferation of sensitive atomic materials.
"This is going to further validate a new enrichment technology when we're trying to get countries to restrict the old enrichment technologies, because they're dangerous enough," said one House aide, describing a concern held by several members of Congress. "How is this a positive for nonproliferation?"
Under the new permit, nuclear energy giant GE-Hitachi can construct and operate what it calls a "Global Laser Enrichment" facility in Wilmington, N.C., that would produce atomic fuel for reactors worldwide. The commercial consortium has said initial tests of the technology have been successful, potentially laying the groundwork for a more cost-effective method of enrichment than today's centrifuge approach.
Smaller facility space and less energy consumption make lasers an appealing tool for commercial uranium enrichment, but might also prove attractive to a handful of nations around the globe interested in the illicit production of weapon-grade uranium, according to nonproliferation specialists.
Critics have said any U.S. action to approve laser enrichment domestically would be likely to spur new research on the technology abroad -- both for commercial and clandestine use.
Based on such concerns, the American Physical Society in 2010 petitioned the Nuclear Regulatory Commission to begin requiring proliferation assessments as part of its licensing process for any new uranium enrichment or plutonium reprocessing technologies.
Experts subsequently asked the five NRC commissioners to postpone the agency's decision on the GE-Hitachi laser enrichment license until they could decide the matter of whether such permit requests should undergo appraisals for their potential proliferation ramifications.
However, an NRC decision on mandating such analyses is not expected until November at the earliest.
"The petition review package is due to the Office of the Secretary by Oct. 31," NRC spokesman David McIntyre said on Tuesday. "It should reach the commission a few days after that."
By regulation, the NRC staff had 10 days to issue the laser enrichment operating permit following Atomic Safety and Licensing Board approval on Sept. 19.
Led by Chairwoman Allison Macfarlane, the NRC commissioners have not actually voted on whether to approve the GE-Hitachi license, according to McIntyre. Rather, the NRC spokesman said, "the commission was notified verbally that staff was prepared to issue the license, and since the commission did not direct otherwise, the staff proceeded."
Now that staff has approved the permit, the commissioners have 120 days to revisit the licensing board's findings and potentially put the brakes on the laser enrichment effort, if they see fit. Such NRC reviews are "rare but not unheard of," McIntyre said.
In what McIntyre acknowledged was "an interesting wrinkle," if the licensing board decision had been issued prior to the end of August, as had been earlier anticipated, the commissioners would have had just 40 days to review and potentially "modify" or "set aside" ASLB approval of the laser effort. New regulations extending this review period became effective on Sept. 4, he said.
With that permit-review window now open through mid-January, there could still be enough time to revisit the laser enrichment license approval even after the NRC commissioners' anticipated consideration this fall of the American Physical Society petition on proliferation assessments.
R. Scott Kemp, who until last year served as a State Department science adviser for nonproliferation and arms control, on Tuesday called the NRC laser enrichment license approval "no doubt a missed opportunity."
"Apparently, the commissioners were either not yet sufficiently convinced of the proliferation risks, or seized of the matter, to intervene at this point in time," he said.
Should the commissioners determine in coming months that the emerging laser process poses a valid licensing concern, U.S. regulations might allow them to re-examine the licensing board's decision based on "any other consideration which the commission may deem to be in the public interest."
At the same time, though, the federal guidelines dictate that "a petition for review will not be granted to the extent that it relies on matters that could have been but were not raised before the presiding officer" of the licensing board.
Nonproliferation advocates did not act to intervene in the ASLB hearing in July, so it might be impossible for NRC commissioners to launch a review based on what could be seen as a new matter that did not come before the licensing panel.
Still, such technicalities might not play well on Capitol Hill, where some lawmakers see the issue more in terms of black and white.
"If you're issuing a license before reviewing a public petition, whose interests are you really serving here?" said the House staffer, who requested anonymity to discuss a sensitive matter. "Clearly not the public's."
The pending American Physical Society petition "offers the commission a second opportunity to take a stance on proliferation matters, for which I am optimistic," said Kemp, now an assistant professor of nuclear science and engineering at the Massachusetts Institute of Technology. "However, whether the commission will have the high-mindedness and public spirit to revisit the [laser enrichment] decision at that time remains an open question."
About
WASHINGTON -- Nuclear Regulatory Commission staff on Tuesday issued the first U.S. commercial license ever for a process in which uranium is enriched by laser, opening what many issue experts have warned could be a new chapter in the global proliferation of sensitive atomic materials.
Countries