U.S. Nuclear Commander Warns Against Rushing Further Arms Cuts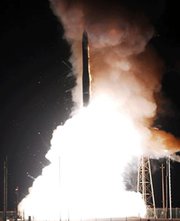 WASHINGTON -- A U.S. Air Force general who oversees nuclear-capable bombers and ICBMs warned on Thursday against seeking deeper arms control reductions with Russia until the ramifications of such cuts could be fully weighed.
"I'm concerned that by pursuing a lower force structure" than laid out by last year's U.S.-Russian New START arms control accord, "we could be on a course that would require us to be at least thoughtful and considerate of some factors that need to be out in the public arena," Lt. Gen. James Kowalski, who heads Air Force Global Strike Command, said at a speaker forum on Capitol Hill.
The senior officer's remarks come just as the Defense Department is believed to have laid the groundwork for additional reductions in a still-secret nuclear policy "implementation study." Pentagon officials say the document is essentially complete but the White House has not yet moved to approve it or publicly announce its findings.
Media reports have suggested the study, which was to be based on the Defense-led 2010 Nuclear Posture Review, could set the stage for a lower warhead ceiling, ranging anywhere from 1,100 warheads in the near term to as few as 300 in the longer haul.
The Obama administration is believed unlikely to debut any fresh proposals for further nuclear arms reductions prior to the November presidential election.
Under New START, Washington and Moscow by February 2018 will each cap their deployed strategic nuclear warheads at 1,550. The two former Cold War adversaries also agreed to limit fielded nuclear delivery vehicles -- including bomber aircraft and missiles based on land and at sea -- to 700, with an additional 100 permitted in reserve.
James Miller, the Pentagon's top policy official, in February said deterrence of threats to the United States and its allies could actually be strengthened "with lower numbers" than those set by New START. He has declined to discuss specifics pending release of the study findings.
This week, Kowalski said he was "confident" the U.S. nuclear arsenal would remain a "safe, secure and effective" deterrent against current and future threats at the force levels afforded by the existing treaty. However, he waved a red flag about going any further.
"Such discussions need to be taken at a measured pace and need to be informed by analysis," the three-star commander said. "They need to be bounded by the realpolitik of international relations."
As leader of Global Strike Command -- located at Barksdale Air Force Base in Louisiana -- the general is responsible for the nation's 450 ICBMs, 93 B-52 bombers and 20 B-2 bombers, all capable of delivering nuclear payloads.
When asked, Kowalski said he intended no criticism of the as-yet unreleased Nuclear Posture Review implementation study.
"Don't misunderstand me: I'm not part of any other group that's doing analysis," he told roughly 180 attendees at a one-day conference on the U.S. air, sea- and land-based nuclear weapons triad. On Friday, a spokeswoman for Kowalski said he played no role in drafting -- or reviewing the results of -- the new implementation study.
"If we decide to pursue a number lower than 1,550, I'm laying out a list of things that need to be part of that consideration," the general said at this week's event.
Topping Kowalski's list: "We must consider what force size is needed to ensure we have adequate human capital, adequate intellectual infrastructure at our laboratories, and an adequate industrial base. Those are three things that I have seen absent from the conversation thus far."
Rather, he said, "most of the discussion, and rightly so," has "been about political implications and what's the right level of weapons to ensure deterrence [of threats] and assurance" of Washington's allies.
Some in the audience shared the worry.
"While I suspect the [implementation] study will recommend reductions to even lower levels, I am concerned that it will be lacking in analytical rigor or structured to justify a preordained conclusion," said David Trachtenberg, who served as a Defense policy official during the Bush administration.
"I think comments about the desirability of going lower put the cart before the horse, and may lead to doubts about U.S. resolve that embolden adversaries and unnerve allies," he said in response to e-mailed questions.
Based on his own dialogue with arms control proponents and detractors alike, Kowalski said he is convinced there is broad agreement that additional cuts to the nuclear arsenal would require a serious intellectual scrub -- particularly if they are viewed as steps toward a more ambitious goal.
"The world we live in today is not a world that is ready for zero nuclear weapons," he said, alluding to President Obama's stated long-term objective for global atomic disarmament. "So what do we need to think about?"
Potential future threats are among those issues not yet fully vetted, he said. Advising that the United States continue to seek nuclear force "parity" with Russia, Kowalski said any contemplation of more profound U.S. reductions must assess where Moscow is headed with its own atomic arsenal.
"While we don't anticipate that Russia would have the intent to pursue conflict, it would be irresponsible to ignore their capability," he said. "Capabilities take years to develop; intent can change very quickly."
Moscow has begun producing a new multiple-warhead ICBM, the RS-24, and is readying multiwarhead Bulava missiles for submarines. Yet, by the beginning of the next decade, roughly 98 percent of older missiles fielded in the Russian land-based force are expected to retire.
"The current production and deployment rate of new ICBMs is not fast enough to offset the old-missile retirements," according to a recent analysis by nuclear weapons experts Hans Kristensen and Robert Norris of the Federation of American Scientists.
"By the early 2020s, they will probably be down to something on the order of 400 delivery vehicles in their entire triad," Kristensen said in a Thursday interview. "We have 450 ICBMs [alone].
The analyst, who directs his organization's Nuclear Information Project, laid out the case for a fresh round of negotiated strategic arms reductions between Washington and Moscow.
"You can see the problem," Kristensen said. "If we don't change our posture," Russia will be more likely to grow its nuclear force with weapons that increase the threat to the United States, such as developing another "new, multiwarhead ICBM," he said.
Washington faces a window of opportunity in coming years that could head off an unnecessary post-Cold War arms race between the world's two biggest nuclear powers, he said.
"Even with [the RS-24 and Bulava] built, they will not be able to compensate for the reductions" due to retirement, in terms of even being able to meet New START warhead ceilings, according to Kristensen. "We need to go out and signal" a readiness to reduce U.S. forces alongside Russia's -- "earlier rather than later," he said.
Speaking on Capitol Hill, Kowalski also cited other potential global threats that might justify maintaining New START force levels, at least for the time being.
Without singling out China or other growing nuclear powers by name, the general said Washington must contemplate the "temptation that lower numbers might be offering other nations to expand their arsenals and to join us at the high end of nuclear capability."
About
WASHINGTON -- A U.S. Air Force general who oversees nuclear-capable bombers and ICBMs warned on Thursday against seeking deeper arms control reductions with Russia until the ramifications of such cuts could be fully weighed.
Countries