U.S. Nuclear Marketers Visited Saudi Arabia, As Trade Talks Under Way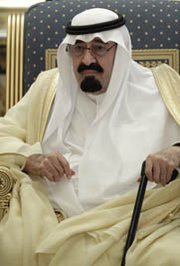 WASHINGTON -- A U.S. nuclear industry delegation traveled to Saudi Arabia in November, as Washington and Riyadh launched negotiations toward sealing a controversial atomic trade agreement, according to government and business officials.
An industry official on Wednesday described the Saudi trade mission as "a first-of-a-kind, industry-led" trip. It follows a 2012 announcement by the Persian Gulf nation that it intends to build 16 reactors by 2030.
"On the nuclear side, that represents an investment of approximately $112 billion that they're planning to make to bring those plants to reality," the energy marketing representative said at a Nuclear Energy Institute forum on atomic fuel.
Through a spokesman, the industry official requested anonymity in order to offer candid comments about the trade mission at the Wednesday symposium. The Nuclear Energy Institute is the U.S. atomic industry's lobbying arm and was a "supporting partner" for the business delegation's visit, the official said.
Organized by the U.S. Chamber of Commerce and U.S.-Saudi Arabian Business Council, the visit reportedly included a delegation representing 10 nuclear companies and 10 renewable-energy firms. Exelon Generation and SunPower led the atomic and solar delegations, respectively, according to information the chamber posted online.
The Mideast meetings took place two months before a U.S. State Department representative publicly acknowledged, early this year, that Saudi Arabia is among several nations with which "we are negotiating [nuclear trade] agreements." Others include Jordan, Taiwan, South Korea and Vietnam.
These trade agreements could provide selected foreign nations access to U.S. nuclear materials, technologies and expertise. Although cooperation is aimed solely at peaceful energy generation and other civilian applications, in some instances worries linger that a nation might misuse the efforts to advance a clandestine effort to build atomic arms.
Riyadh is interested in tapping the U.S. nuclear sector "for use in medicine, industry and power generation and [to] help in the development of both human and infrastructure resources," the State Department said in announcing a preliminary memorandum of understanding in May 2008.
Yet there are some serious concerns about a major trade agreement going forward. Saudi Arabia is an oil-rich country that a number of U.S. lawmakers and proliferation experts are concerned might someday produce or buy atomic fuel usable for a nuclear weapon.
Prince Turki al-Faisal, a former Saudi ambassador to the United States and a member of the ruling family, has repeatedly said his nation could develop or acquire nuclear weapons as a counter to Iran and Israel. Last year, Saudi King Abdullah was cited as having vowed in 2009 to produce nuclear weapons if Iran succeeds in doing so.
On Capitol Hill, Democrats and Republicans alike have signaled they might block any U.S. nuclear cooperation with Saudi Arabia, particularly if Israel opposes such a deal. Of additional concern is the potential for instability in the kingdom, leading to worries about who might control sensitive nuclear technologies if the Saudi ruling family is ever expelled from power.
In a letter last year to Obama administration officials, Representative Ileana Ros-Lehtinen (R-Fla.), then chairwoman of the House Foreign Affairs Committee, said she feared Washington might begin "promoting nuclear programs throughout the Middle East and beyond, perhaps even including countries that are interested in their use for military purposes."
If the Obama administration concludes an accord with Saudi Arabia, "it's going to make a lot of people in Washington -- in Congress, specifically -- very nervous about exporting nuclear technology and know-how," said Ali al-Ahmed, director of the Washington-based Institute for Gulf Affairs. "It should be of particular concern because of uncertainty in Saudi Arabia arising from the Arab Spring."
"It's going to be an interesting debate, because it brings [congressional] support for nuclear power smack up against serious national security concerns in the region, especially in regard to Israel," said one congressional source who was not authorized to speak publicly about the matter.
Ahmed told Global Security Newswire he is "torn" about whether Saudi Arabia should receive access to the sensitive U.S. nuclear sector because he believes the kingdom does need new energy sources for water purification and economic development. Yet, he said, Riyadh must not use nuclear energy for military purposes.
If U.S. lawmakers decide to allow any future accord to proceed, they might do so with the proviso that the agreement include a verifiable Saudi pledge not to enrich uranium or reprocess plutonium domestically. This type of promise -- dubbed the nuclear trade "gold standard" -- might ease some concerns that Riyadh could use the most sensitive civil energy activities to gain an illicit nuclear bomb-making capability, something Iran is widely suspected of doing.
Administration officials have hinted that they would seek gold-standard pledges from any nuclear trade partners in the Middle East, though it is unclear specifically what might be negotiated with Saudi Arabia.
Some nuclear-energy proponents have argued that State Department negotiators should demand the gold standard only on a case-by-case basis, because doing otherwise might harm U.S. business interests and decrease Washington's influence in nations of particular proliferation concern.
Saudi Arabia does not actually need a U.S. accord before moving forward with its nuclear energy plans, as it has signed cooperation pacts with a number of other nations including China, France, South Korea and Argentina. Expert observers say Riyadh seeks an agreement with Washington more as a political stamp of approval for its atomic efforts.
"I think we've been schizophrenic about Saudi Arabia wanting nuclear technology," said Persian Gulf energy expert Simon Henderson, noting that other nations could easily win reactor contracts with Riyadh if the U.S. nuclear industry is not given a shot. At the same time, he said, "we're also profoundly concerned that if Iran goes nuclear, so will Saudi Arabia."
During the November industry visit to the kingdom, U.S. business representatives discussed potential products and services with Saudi investors and officials from the nuclear power sector, the King Abdullah City for Atomic and Renewable Energy. Meetings also included representatives of the Saudi commerce and water-and-electricity ministries, the U.S. industry representative said this week.
A spokesman for the Saudi atomic and renewable-energy organization did not respond to a request for comment.
With U.S.-Saudi nuclear trade discussions in early stages, "it's a diplomatic game and the key is … not responding to commercial pressures," Henderson, a fellow at the Washington Institute for Near East Policy, said in a Wednesday phone interview.
To remain on schedule, Saudi officials anticipate that power plant construction could begin as early as 2015, the industry representative said.
Progress on the nuclear plans thus far has been unhurried, yet Saudis are "eager to move ahead," the official said. "But the one thing that I learned when I was in Saudi Arabia is that it seems as though things move slowly, and then all of a sudden happen. So it's a little bit harder to predict."
About
WASHINGTON -- A U.S. nuclear industry delegation traveled to Saudi Arabia in November, as Washington and Riyadh launched negotiations toward sealing a controversial atomic trade agreement, according to government and business officials.
Countries