U.S. Nuclear Trade Talks with Vietnam, Jordan Moving Forward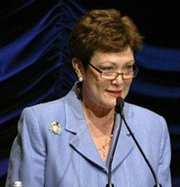 WASHINGTON -- The United States is moving ahead with negotiations on bilateral civil nuclear trade agreements with both Vietnam and Jordan, a senior Obama administration official said on Thursday (see GSN, Jan. 11).
"One of my deputy assistant secretaries is in Vietnam" this week to launch bilateral discussions on the matter, Ellen Tauscher, undersecretary of State for arms control and international security, told reporters at a breakfast Q&A session. "They're interested in talking to us. We would like to be able to begin to negotiate."
Congressional aides said Eliot Kang, a nuclear affairs deputy at State, is leading the delegation, which began the talks with Hanoi on Wednesday morning.
Tauscher revealed that Washington's engagement with Vietnam was the topic of a notification letter the administration sent to key members of Congress on Tuesday, in advance of anticipated briefings for lawmakers on a policy determination regarding how best to pursue nonproliferation goals in the context of nuclear trade.
The United States has pursued civil nuclear agreements with select nations seeking sensitive technologies, materials and expertise necessary for developing atomic energy for power generation, research and medical applications.
International tensions have been mounting over Iran's alleged efforts to develop a nuclear weapon while insisting that its atomic energy program remains solely for peaceful purposes.
Meanwhile, there has been much debate in Washington over the question of making nuclear assistance conditional for some recipient nations, particularly in the Middle East where a growing number of states are warily eyeing the Iranian threat.
Nonproliferation proponents have argued that the United States should advocate in nuclear trade negotiations with nations such as Vietnam, Jordan and potentially Saudi Arabia that any agreement contain a pledge not to enrich uranium or reprocess plutonium on their territory.
These activities are useful for civil energy programs but could also open the door to the clandestine development of nuclear weapons, if a nation opts to move in that direction.
The United Arab Emirates volunteered in its 2009 atomic trade pact with Washington to renounce a right to enrich or reprocess, but the Obama administration has been reluctant to necessarily demand this type of "no-ENR" pledge from every other cooperative-agreement partner with whom it negotiates.
Senior officials have warned that this so-called "gold standard" approach could undercut the U.S. nuclear industry's ability to compete in the international marketplace and could ultimately leave Washington with less influence over nonproliferation concerns.
It remained unclear this week how hard Kang and his negotiating team would press Vietnam to agree to a UAE-like gold standard.
The administration letter to Congress, which has not been made public, discusses the ENR matter at some length, according to those privy to the text.
The Obama team intends to pursue its approach to enrichment and reprocessing in future nuclear trade pacts on the basis of a "case-by-case" review, the letter reportedly states. In talks with Vietnam, U.S. negotiators would explore a range of ENR options, said one congressional aide familiar with the missive.
This staffer and others on Capitol Hill were interviewed for this article on condition of not being named, saying they lacked the authority to discuss the matter openly.
There are a variety of ways to pursue nonproliferation goals while engaging in nuclear commerce, the letter reportedly states, such as following trade guidelines set out by the Nuclear Suppliers Group, as well as using international fuel reserves, fuel services or fuel banks to obviate any need for domestic enrichment or reprocessing.
It remains uncertain which of these various tools, if any, might be used in a potential Vietnam deal.
"We've actually had tabled, I think, for almost a year our basic, boilerplate '123' … agreement to Vietnam," Tauscher said on Thursday, referring to nuclear trade pacts governed by Section 123 of the U.S. Atomic Energy Act. "And now we're going to go forward and do that."
Some issue experts have speculated that Vietnam might not seek to enrich or reprocess as its nuclear energy sector develops. Hanoi would be unlikely to volunteer such a restriction in its pact with Washington, though, said one congressional source. Whether U.S. negotiators would push -- or even ask -- Vietnam for such a pledge was not spelled out in the letter, according to those familiar with the document.
It could be that the Obama administration would prefer not to see a no-ENR commitment in the Vietnam agreement because that could heighten pressure on Washington to seek similar pledges in negotiations elsewhere, even in nations where U.S. officials are not keen on arm-twisting, said one congressional aide.
"Is the administration afraid to take yes for an answer on no enrichment or reprocessing?" the staffer said in a Thursday interview, referring to the Vietnam talks. "You don't get what you don't ask for."
Any accord that emerges from the Hanoi discussions must undergo legislative review, though the Atomic Energy Act allows a nuclear trade agreement to enter into force after 90 days of continuous session if Congress has not acted to stop the measure. These relatively permissive terms have traditionally made it difficult for lawmakers who oppose a nuclear trade pact to actually generate enough congressional opposition to block it from being implemented.
The House Foreign Affairs Committee last year passed legislation, H.R. 1280, to reform the Atomic Energy Act in a manner that would give Congress more power to reject civil atomic accords that omit a no-ENR pledge. However, the measure has not yet been brought to the House floor.
Some U.S. officials and experts have raised the notion that it might be appropriate to push harder for the gold standard in nuclear trade negotiations with Middle Eastern nations than elsewhere around the world, given the volatility of the region.
It is unclear whether a nearly complete agreement with Jordan contains such a pledge, though a key State Department official last March hinted that "Congress will like" ENR provisions in Amman's pact with Washington.
That agreement has not yet been submitted to Capitol Hill for review. Turbulence in the region during the past year's Arab Spring put the Jordan talks on ice, issue experts have said.
Tauscher said, though, that the two sides are now re-engaging on the matter.
"Our talks with Jordan are very fruitful and a very good prospect," she told reporters at the Defense Writers Group breakfast. "We're waiting to hear back from them the status of our last [draft after] sending back to them our comments and our edits."
Jordan's King Abdullah II is set to meet with President Obama in Washington next week, but their focus will be the status of Middle East peace talks and it is not expected that the nuclear trade issue will come up.
The next set of U.S. talks with Amman on atomic cooperation will occur "most likely when I go to Jordan sometime next month," said Tauscher, noting that Deputy Energy Secretary Daniel Poneman would join her for discussions in the region.
"We have a very strong test for countries that have agreed to not have enrichment and reprocessing. And that's the Middle East standard … the 123 agreement with the UAE," Tauscher said. "That is not necessarily true around the world, where there are less proliferation concerns."
Asked if the "Middle East standard" to which she referred was an indication that the U.S. administration would attempt to enforce the gold standard more strictly throughout that region than elsewhere around the globe, she said that would not necessarily be the case.
"Everything is done on a case-by-case standard," Tauscher said. "I have heard people use the 'Middle East standard' [to] refer to the UAE agreement. That's certainly what the Congress calls it."
Tauscher also said she would not characterize the Middle East as uniquely more dangerous than other regions when it comes to enrichment and reprocessing.
"We have two distinct things: We have a very robust nonproliferation effort where we, the United States, want to encourage everybody to not enrich and reprocess," she said. "And we also have a commercial activity to have United States agreements for 123 agreements, and these are contracts usually with the Energy Department. So these are two things."
About
WASHINGTON -- The United States is moving ahead with negotiations on bilateral civil nuclear trade agreements with both Vietnam and Jordan, a senior Obama administration official said on Thursday.
Countries