U.S. Senate Panel Backs Vietnam Nuclear Trade Pact, But Tightens Conditions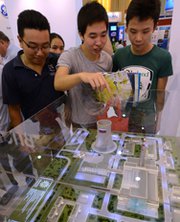 A key Senate committee on Tuesday endorsed a U.S. nuclear trade pact with Vietnam, but constrained its length to 30 years and added new requirements for most such future pacts.
The joint resolution, offered by Senate Foreign Relations Committee Chairman Robert Menendez, passed in a bipartisan voice vote in an afternoon business meeting of the panel.
As negotiated by the Obama administration, the new agreement to allow U.S. nuclear technologies, atomic materials and technological know-how to be shared with Vietnam could be automatically extended -- a departure from typical past practice with Washington's trade partners that has troubled some lawmakers.
The committee-passed measure was based on similar legislation the New Jersey Democrat offered in May, reflecting concerns the lawmaker and others on Capitol Hill have raised about Hanoi's refusal to guarantee that it would not produce nuclear fuel as it undertakes its new civil atomic energy program. Uranium enrichment or plutonium reprocessing can be undertaken as part of peaceful atomic energy efforts, but these activities sometimes raise fears about their potential to produce fuel for illicit nuclear bombs.
Vietnam did state in a non-binding preamble to the accord that it would not enrich or reprocess on its own soil. But some nonproliferation proponents see the Obama administration's acquiescence on the matter as a disappointing precedent as world powers labor to rein in Iran's enrichment efforts -- on suspicions they are in part aimed at attaining a bomb-building capacity -- and stanch the spread of atomic arms elsewhere around the globe.
The committee chairman's legislation, as initially offered in May, contained the 30-year cap for most U.S. nuclear cooperation agreements -- a limitation that does not appear to be generating much pushback from the atomic energy industry. Daniel Lipman of the Nuclear Energy Institute -- the industry's lobbying arm -- said at a recent House hearing that his group has "no quarrel" with the idea of a 30-year duration rather than the more indefinite period that the Vietnam pact would involve. He emphasized predictability as more of a central concern for the U.S. nuclear industry.
At the same time, Menendez altered his initial legislation slightly to accommodate a desire by minority members of his committee to further strengthen its nonproliferation features, Senate aides said in Tuesday interviews.
A key addition was to demand that nuclear proliferation assessments the State Department submits to Capitol Hill about prospective nuclear cooperation partner nations now include more extensive details, according to staffers who asked to remain unnamed because they were not authorized to discuss the matter publicly.
Those include "an assessment of the adequacy of safeguards" and "peaceful use assurances contained in the agreement" to "ensure that any [U.S.] assistance ... will not be used to further any military or nuclear explosive purpose"; a review of any "past proliferation activity of the cooperating party, or suspect activity identified by ... the intelligence community" about "all activities that are potentially inconsistent with a peaceful nuclear program and any potential delivery mechanisms"; "a comparison of the agreement to other existing civil nuclear cooperation agreements between the United States and other states in the region"; and "an assessment of the strategic, security, stability, and regional considerations throughout the negotiation of this agreement."
Senate staffers said the bipartisan backing for the legislation in committee might allow it to be "hotlined" into a floor vote before the chamber breaks for a possible August recess. That timing could permit Congress to affect the terms of the Vietnam agreement prior to end of a set period of legislative review of the pact, according to experts.
It is unclear when or if the House will pass similar legislation endorsing or limiting the terms of the U.S.-Vietnam agreement, which the administration submitted to Congress on May 8. Under law, the legislative branch has 90 days of continuous session to review nuclear cooperation accords.
However, neither Senate nor House action is required on this type of pact. The United States could proceed to implement the Vietnam deal if Congress has not passed legislation to limit or stop it prior to the end of the review period.
It was unclear this week whether Senate Majority Leader Harry Reid (D-Nev.) would enter the chamber into recess during August. If there is no recess, then the 90 days would come to a close on Aug. 6, allowing the administration to move ahead with the agreement, according to Congress-watchers.
If Capitol Hill does break for recess, that could effectively give lawmakers additional time into early September to send legislation to the White House affecting the Vietnam pact, if they so choose, sources said.
"There's no question that the 30-year cap and [nuclear proliferation assessment] provisions would pass if they came to a [Senate] vote," Henry Sokolski, executive director of the Nonproliferation Policy Education Center, said in e-mailed responses to questions. "It's unclear, however, if the chairman's amendment will ever reach the floor."
"The bipartisan nature of the [Menendez] committee vote augurs well for Senate support," agreed Miles Pomper of the James Martin Center for Nonproliferation Studies on Wednesday. "But given the failure of Congress to pass any legislation these days and the upcoming campaign season, I wouldn't bet on a joint resolution making its way to the president."
For his part, House Foreign Affairs Committee Chairman Ed Royce held a hearing earlier this month at which he charged the Obama team with a "dramatic retreat" from "the gold standard policy under which countries were pressed to forgo acquiring … potentially dangerous technologies."
But the California Republican to date has not taken a public position on the Vietnam agreement specifically. It was unclear whether he or other House lawmakers would work with their Senate counterparts on Menendez's joint resolution, or prefer instead to allow the Vietnam pact to proceed unhindered.
Few if any issue experts anticipate that the South Asian nation has an intention of developing nuclear arms in the foreseeable future.
That has not stopped Representative Ileana Ros-Lehtinen (R-Fla.), Royce's immediate predecessor as committee chairman, from declaring at the July 10 House committee hearing that she would "strongly oppose" the agreement with Hanoi. She voiced concerns about the absence of a binding no-fuelmaking provision and what she termed Vietnam's "abysmal human rights record."
According to sources, Ros-Lehtinen has considered offering legislation aimed at stopping or altering the terms of the U.S.-Vietnam accord, but by press time no measure had yet gone forward.
"What exactly the House will do is yet to be be determined," Sokolski said. "The beginning of this process in the Senate has ended but we're quite a ways still from the end. I think the legislative drama on nuclear cooperation has just begun."
Back at Tuesday's Senate Foreign Relations Committee session, two amendments aimed at making Washington's future nuclear-cooperation deals with foreign governments more proliferation-resistant failed to pass.
One offered by Senator Bob Corker (R-Tenn.) would have added a new condition under the U.S. Atomic Energy Act that would have effectively required an affirmative vote of Congress before any nuclear-cooperation pact could proceed, unless a partner nation agreed not to begin enriching or reprocessing. While some chamber staffers said Corker -- the panel's ranking member -- had lined up significant support for the measure among fellow GOP senators on the panel, the amendment went down on a voice vote.
Menendez was among those opposing Corker's proposed provisions, sources said. While the chairman has spoken in favor of maintaining a strong U.S. nuclear-trade standard aimed at stemming global enrichment and reprocessing, he reportedly voiced concern at the Tuesday committee meeting that adding such a rider to the joint resolution might jeopardize its ultimate passage by Congress.
Another amendment, put forth by Senator Ed Markey (D-Mass.), would have prohibited nuclear trade pacts from being implemented if inked with a partner country that withdraws from the Nuclear Nonproliferation Treaty, shows an intent to begin enriching uranium or reprocessing plutonium, has transferred "sanctionable" sensitive nuclear explosive technologies to other nations, or engages in other similarly proliferation-worrisome activities. That measure failed at committee in an 11-5 roll call vote, reportedly with a bipartisan mix of votes both in favor and against.
Sokolski called the Menendez legislation that passed committee a "modest, worthwhile reform," but criticized it for paying "no heed to the egregious precedent the Vietnam deal sets by failing to meet the [no-fuelmaking] gold standard.
"This is going to greatly complicate our current efforts to get South Korea to drop its demands to recycle plutonium and to enrich uranium," he said.
Meantime, "Corker and Markey's interest in these issues is likely to continue," Sokolski said. "What they might do before the Vietnam deal comes into force sometime before August 7 ... remains unclear. What's even more interesting is what they might do after August 7 -- not about Vietnam, but about the [nuclear trade-pact] gold standard more generally."
About
Senate Foreign Relations Committee Chairman Robert Menendez's measure passed in a bipartisan voice vote and limits the U.S.-Vietnam pact to 30 years.
Countries