U.S. Senate Panel Curbs Navy Effort to Add Missiles to Attack Submarines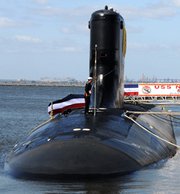 WASHINGTON -- A key U.S. Senate panel on Tuesday announced that it would seek to restrict a Navy program to build new missile launch tubes into its Virginia-class attack submarines (see GSN, March 16).
The Senate Appropriations Defense Subcommittee said its version of a fiscal 2013 funding bill had moved to "limit" the Obama administration's ability to start a new Virginia Payload Module developmental effort "until requirements and cost estimates are validated." The lawmakers did not elaborate.
The subcommittee-approved $604.5 billion markup text has not yet been released but could be publicly available by Thursday, when the full Appropriations Committee is slated to consider the legislation.
A Navy flag officer last year asserted that the effort to expand weapons capacity in as many as 20 new attack submarines would be "cost-effective," offering fresh arrows in the sea-based quiver at a fraction of the price of other shipbuilding alternatives. The price tag for building the modules -- not counting the missiles and warheads to load in them -- could top $10 billion.
The Virginia Payload Module would add "about 20 percent to the cost of each ship," Rear Adm. Michael Connor said in an article about future Navy procurement for undersea combat. Each Virginia-class submarine currently costs roughly $2.6 billion, suggesting the new weapon capacity could boost the unit price to slightly more than $3.1 billion, again excluding the cost of missiles and their warheads.
Defense Secretary Leon Panetta in January revealed that the Navy next year would begin developing the idea of building into the fast-attack submersibles a capacity to launch conventionally armed prompt-strike missiles (see GSN, Jan. 27). At the time, Global Security Newswire was the first to report detailed technology options the Navy was weighing for the mission.
The Defense Department sought to spend $100 million on the Virginia Payload Module in the new fiscal year, which begins on Oct. 1. Navy budget documents also indicate that the development project would cost nearly $800 million between 2013 and 2017, though no official cost estimate to complete the program was listed.
"It is a good judgment call on the part of the appropriators to examine the program further," said Hans Kristensen, who directs the Nuclear Information Project at the Federation of American Scientists.
For its part, the House on July 19 passed a 2013 defense appropriations bill that fully funded a line item for Virginia-class design activities that includes the payload module project, plus added $15 million above the administration request.
Pentagon leaders for several years have said they seek a non-nuclear capability to hit short-notice targets anywhere around the world, such as terrorist leaders or enemy missiles being prepared for launch. Today, only U.S. nuclear-armed ballistic missiles are available for such quick-attack missions worldwide.
The Pentagon has invested in a number of sea- and ground-based technologies for conventional prompt global strike, including a Navy Conventional Trident Modification and an Air Force Conventional Strike Missile. They have encountered an array of political and technical challenges, though, and none today appears anywhere close to being deployed (see GSN, May 8).
Enter the Virginia Payload Module. Adm. Jonathan Greenert, the Navy's top officer, in March described the effort as modifying the design of attack submarines that come off the production lines in coming years.
An initial step for "Block 3" versions of the Virginia-class "SSN" boats involves adding two new missile-launch tubes per vessel, each of which can accommodate six Tomahawk conventional cruise missiles. These two large tubes on the submarine's bow replace 12 narrow vertical launch Tomahawk tubes on earlier versions of the boat.
Greenert, the chief of naval operations, said these new launch tubes would have an 87-inch diameter. Navy and industry officials say that is big enough to consider substituting one to three new-design, medium-range ballistic missiles for prompt global strike in each tube, instead of loading Tomahawks.
Once the Virginia Payload Module is developed and ready -- the Navy is aiming for the early 2020s -- four of the launch systems could be installed in the attack submarine's aft section, behind the mast, naval and industry officials have said. These even larger launch tubes reportedly could allow for an additional Tomahawk -- seven per tube -- or perhaps a larger ballistic missile.
Connor last summer described the Virginia Payload Module as necessitating a potentially costly step: Cutting the current submarine design in half and adding a brand new midsection, a concept some have termed a "stretch" version of the submarine.
"Stretching 20 of the Virginia-class SSNs already in the Navy shipbuilding plan to support the addition of four large vertical-payload tubes will provide the force with near-equivalent undersea payload volume currently provided by our four dual-crewed SSGNs," said Connor, referring in a June 2011 U.S. Naval Institute Proceedings article to four previously nuclear-capable Ohio-class submarines that have been converted for conventional Tomahawk and special operations.
At the time, Connor directed the Navy's Submarine Warfare Division. The two-star flag officer currently serves as assistant deputy chief of naval operations for warfare systems.
"Because these tubes would be added aft of the sail near the longitudinal center of the ship, they would be accessible to operators reaching through manway hatches similar to SSBN tubes today)," Connor wrote, noting the launcher set-up for nuclear-capable Trident D-5 missiles in Ohio-class submarines. "This would be an important advantage over the large-diameter bow tubes in Virginia Block 3, which are not accessible."
The Pentagon's lead contractor for the Virginia-class submarines, General Dynamics Electric Boat, last year said it was responsible for proposing the idea of the new payload compartment.
Stretching the submarine to accommodate the new launchers would add the equivalent size of an NBA basketball court to the vessel's 377-foot length.
The Virginia Payload Module "comprises four additional large-diameter payload tubes in a module inserted amidships in Virginia-class submarines, extending the hull by 94 feet and increasing the fixed-strike capacity by more than 230 percent per ship," General Dynamics stated in a promotional piece posted online.
The additional launch capacity translates to giving military commanders more weapon options for striking geographically dispersed targets, according to the contractor.
Rear Adm. Terry Benedict, who oversees nuclear-armed and non-nuclear strike submarines as director of Navy Strategic Systems Programs, said recently that the Virginia Payload Module could allow his branch to replace the conventional capacity of today's four Ohio-class SSGN submarines when they retire, without having to buy brand new SSGNs.
Whether the module-equipped Virginia-class boats would also carry a missile designed for conventional prompt global strike has not yet been decided, he told a Capitol Hill breakfast audience on July 20.
"The requirement today, as it stands, is a replacement for the SSGN Tomahawk-shooters," Benedict said. As Navy officials study what the new Virginia-class vessels should be capable of doing, Benedict said he hopes "to ensure that they don't preclude any future capability, if leadership were to desire [it]."
Adopting the Virginia-class design modification could help the Navy address an anticipated deficit in available sea-based weapons in the years to come, Connor said.
"If all 20 of the Virginia SSNs starting with Block 5 (beginning construction in 2019) were stretched to include this [launch system], the gap in undersea strike volume would be reduced by more than three-quarters," he wrote.
"Adding a payload module is a significant investment," he said, without divulging a specific program cost estimate. "However, it is possible to stretch 10 Virginia SSNs for the cost of a single new Ohio-like SSGN."
Kristensen was skeptical, though, that changing the design of new-production attack submarines was the most sensible way to replace the four aging SSGN conventionally armed vessels.
"Changing the Virginia launch tubes appears to be intended to create mini-SSGNs with dozens of conventional land-attack cruise missiles and, potentially in the future, provide a capability to launch conventional ballistic missiles from SSNs," Kristensen said. "Whether a future naval conventional global strike missile would be important enough to justify the considerable costs of such a program is another matter."
The Block 3 and Block 5 modifications to the Virginia-class design would offer capacity for just 40 Tomahawks per submarine – or fewer cruise missiles if the loading is mixed with one or more new medium-range ballistic missiles. By contrast, today's SSGNs each have the ability to launch 140 Tomahawks, Kristensen said.
"If the Navy wants some extra [Tomahawk cruise missile availability], instead of expensive SSN conversion, why not simply build two dozen containers with launch tubes that can be loaded onto cargo ships when needed to augment the large number of [cruise missiles] already deployed on ships and submarines?" he asked.
The Tomahawks could be "offloaded and returned to storage on land when not needed," Kristensen said.
About
WASHINGTON -- A key U.S. Senate panel on Tuesday announced that it would seek to restrict a Navy program to build new missile launch tubes into its Virginia-class attack submarines.
Countries