U.S. Should Cancel Plutonium Plant, Delay Uranium Facility: Expert Report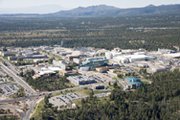 WASHINGTON -- The United States should cancel plans to build a multi-billion dollar plutonium research facility in New Mexico and postpone construction of an enriched-uranium processing plant in Tennessee, according to a report released Thursday by the Union of Concerned Scientists.
The UCS report, "Making Smart Security Choices," criticizes multiple Obama administration plans for nuclear facilities and weapons, arguing the plans to build new fissile-material handling plants in particular are unnecessarily ambitious given the expected future downward trajectory of the U.S. nuclear arsenal. The Union of Concerned Scientists is an independent science advocacy organization.
The United States "should refurbish its existing weapons instead of spending tens of billions to build new ones," report co-author Lisbeth Gronlund said.
The UCS report targets the National Nuclear Security Administration's project to build a Chemistry and Metallurgy Research Replacement plant at Los Alamos National Laboratory at an estimated cost of $6 billion. A team of Los Alamos laboratory officials earlier this year recommended axing the project and farming out its intended duties to a group of smaller buildings.
The so-called CMRR building at Los Alamos would replace a Cold War-era site. It is intended to assist in ensuring new and existing plutonium pits are in working order absent a return by the country to nuclear-weapons testing.
The 81-page UCS report says if the United States carries out limited reductions of its nuclear arsenal over the next-quarter century -- as President Obama has said he would like to do -- current facilities at Los Alamos can produce sufficient plutonium cores to maintain the warhead stockpile.
The CMRR complex is designed to have the capacity to produce between 50 and 80 plutonium pits annually even though no more than 50 cores are needed yearly and Los Alamos currently has that production capability, said Gronlund, who co-directs the Union of Concerned Scientists' Global Security Program.
"The idea that you would need to produce up to 80 [cores] is not warranted," she told Global Security Newswire in a Thursday interview
"We think it's time just to cancel the whole thing," Gronlund said.
Meanwhile, Gronlund and her co-authors say they do partially support the NNSA plan to build a new highly-enriched processing facility at the Y-12 National Security Complex in Oak Ridge, Tenn. They believe the facility is needed, but maintain the current project is overly ambitious and a more-modest facility could suffice.
They advise first carrying out a new study to ascertain whether so-called secondaries from existing warheads could be refurbished, which would reduce the needed capacity at a planned processing plant. Secondaries are fusion cell components in a thermonuclear bomb used to create more-powerful blasts.
The envisioned Uranium Processing Facility in Tennessee could cost as much as $7 billion to construct. In excess of 60 groups have come out against the project, criticizing its large price tag and stated mission of producing large numbers of warhead secondaries at a time when the Obama administration wants to down-size the U.S. nuclear arsenal.
The report additionally advises canceling a project, already underway, to build a mixed-oxide fuel fabrication facility in South Carolina. The administration in April said it was reconsidering its options for disposing of the surplus weapons-grade plutonium. The MOX facility was intended to convert the material into fuel for atomic power plants. However, the project has been impeded by significant cost overruns and schedule delays.
"The NNSA should cancel the MOX program and embed excess plutonium in a stable glass or ceramic form suitable for disposal in a geological repository," the report reads.
The report also takes the NNSA to task for its plan to consolidate the present stockpile of seven kinds of warheads down to five designs. Under the NNSA's so-called "3+2" consolidation plan, the country's future arsenal would be composed of three warhead designs that would be interoperable with intercontinental-ballistic missiles and submarine-launched ballistic missiles while the remaining two types of warheads would be fielded on heavy bombers and cruise missiles.
But these new designs violate "the spirit if not the letter of the administration's pledge to not develop new nuclear weapons," Philip Coyle, UCS report co-author and former Pentagon head of weapons testing, argued in a statement. "It sends the wrong message to the rest of the world."
Gronlund further maintained that "the latest plan to produce a new suite of warheads to replace the current arsenal is inconsistent with Obama's pledge to not produce new warheads and flies in the face of his commitment to further reduce the role of nuclear weapons in U.S policy."
Verifying that the new warhead designs perform as intended could be tricky without returning to nuclear testing -- something that Obama has said he does not want to do, according to the UCS document.
In researching and writing the report, which takes a "big picture view" of the U.S. nuclear weapons complex, Gronlund said she and her colleagues interviewed several NNSA officials but relied primarily on the semiautonomous Energy Department's own fiscal 2014 Stockpile Stewardship and Management Plan.
"We did find some things that the complex is doing well," she said. "They are being very successful at maintaining their technical workforce. It's something that people have been worried about but it looks like they are doing alright on that front."
About
WASHINGTON -- The United States should cancel plans to build a multi-billion dollar plutonium research facility in New Mexico and postpone construction of an enriched-uranium processing plant in Tennessee, according to a report released Thursday by the Union of Concerned Scientists.
Countries