U.S. Strategic Commander Eyes Nuclear "Dyad" as Future Possibility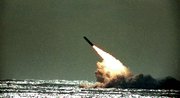 WASHINGTON -- Gen. Robert Kehler, the top U.S. strategic combat commander, said on Tuesday that the nation someday might move from its longstanding triad of nuclear-armed ICBMs, submarines and bombers to a two-pronged "dyad" (see GSN, Oct. 14).
For the time being, though, the Air Force officer said, the United States continues to require the redundancy and flexibility that the three types of nuclear delivery systems provide. Efforts to modernize aging aircraft and land- and sea-based missile systems should proceed apace, Kehler said.
"As you look into the strategic future, the answer about whether or not we're going to need a triad, I think, is 'it depends,'" he told reporters at a breakfast question-and-answer session. "It depends on the strategic situation we find ourselves in."
The general, who heads the Omaha, Nebraska-based U.S. Strategic Command, said any future decision to move to a nuclear dyad would be based on several factors.
It would "depend on whether or not we have future arms control, whether or not we have structured our force in such a way that we still don't get the same benefit of those attributes -- or we still don't need the same benefit of those attributes," Kehler said.
"And, of course, there's a budgetary dimension to this," he added. "As we look to modernize, in particular, can we in fact spend the resources to modernize the entire triad?"
Kehler said "those are not all questions for today," but could come to bear sometime in the future.
The Pentagon is planning to invest billions of dollars in coming years to develop and build a new nuclear-armed submarine to replace today's 14 Ohio-class vessels, a new "family" of long-range strike systems to supplant 113 aging bomber aircraft, and a new ICBM in anticipation of retiring the nation's 450 Minuteman 3 missiles.
Each leg of the triad offers a different set of attributes that, at least for the time being, the Obama administration would like to preserve, according to the 2010 Nuclear Posture Review.
Bomber aircraft are prized for their flexibility; commanders can load them with different mixes of bombs and missiles and, if need be, summon them back to base if an attack is called off.
Submarine-based weapons are the most survivable of the triad, while ICBMs are seen widely as a cost-effective way of keeping a large number of fast-flying warheads on alert.
Gary Samore, a top White House aide for arms control and nonproliferation, said in May that an ongoing Obama administration strategic assessment is weighing whether it might be advisable for the United States to adopt a dyad approach to its future nuclear force posture, if much larger cuts are negotiated.
On Tuesday, Kehler did not say which of the three legs might be eliminated if the nation ever moved to a nuclear dyad, but others have weighed in on the matter.
Representative Edward Markey (D-Mass.) last week called on the congressional "super committee" -- the panel charged with identifying ways to reduce the U.S. deficit -- to consider eliminating the nuclear mission for B-52 and B-2 bombers, converting them to a conventional-only role as was done with B-1 aircraft (see GSN, Oct. 12).
Over the years, others have recommended eliminating ICBMs or submarine-launched ballistic missiles (see GSN, Oct. 1, 2009; and April 10, 2009).
Kehler urged against moving too hastily.
"Sustaining a triad is the right thing to do now. And the reason is because of the attributes that the triad brings," he said. "I don't see anything today that would change my mind that the triad is the right way to go forward. I believe that we can sustain a triad today."
Given the limits set by the U.S.-Russian New START agreement -- a cap of 1,550 deployed warheads and 700 deployed delivery systems -- "a triad of forces makes the most strategic sense [and] makes the most operational sense," Kehler said.
If much deeper nuclear arms reductions are taken through future arms control pacts, a dyad might become a more attractive option, Kehler said.
"I think you can get to a level of forces" where spreading a small number of warheads across three different delivery modes "becomes a real concern," he said. However, he added, "I don't know that you can give a precise number" for the level of U.S. forces at which a triad is no longer economically or operationally feasible.
Kehler's remarks echoed a theme that Samore raised in a May interview with an arms control advocacy publication.
The administration's ongoing strategic review is "likely to take quite a bit of time because we've reached the level in our forces where further reductions will raise questions about whether we retain the triad or whether we go to a system that only is a dyad," Samore told Arms Control Today. "Those are important considerations. Reductions below the level that we have now are going to require some more fundamental questions about force structure."
Kehler said a key concern about maintaining a triad at lower numbers is that remaining weapons could become "hollow" -- a situation in which forces might appear robust on paper but fail to reflect a diminished capability out in the field.
He noted that declining emphasis on maintaining nuclear force readiness in past years led to a number of Air Force mishaps. Those included a 2006 mistaken shipment of nuclear fuses to Taiwan and, in 2007, the inadvertent transport of nuclear arms over several U.S. states. The service subsequently created a Global Strike Command to help consolidate and strengthen its control over its nuclear-armed platforms (see GSN, Oct. 9, 2008).
"We need to be very careful," Kehler told reporters. One worry, he said, is that "you can have a hollow nuclear force in the industrial complex that supports the weapons. I think you [also] can have a hollow nuclear force in the force itself."
It remains unclear if additional reductions below New START ceilings will be made, he said.
"But I think there will be some very tough decisions to make here at certain [nuclear force] levels, and whether or not you can then sustain a leg of the triad without it becoming hollow," Kehler said. "Can you have enough expertise? Can you have enough sustainment horsepower, if you will, behind it to really make it a viable leg? Those are all great questions and those are questions we're going to have to address."
About
WASHINGTON -- Gen. Robert Kehler, the top U.S. strategic combat commander, said on Tuesday that the nation someday might move from its longstanding triad of nuclear-armed ICBMs, submarines and bombers to a two-pronged "dyad" (see GSN, Oct. 14).