Angela Kane, Former Under-Secretary-General of the United Nations, Joins NTI as Sam Nunn Distinguished Fellow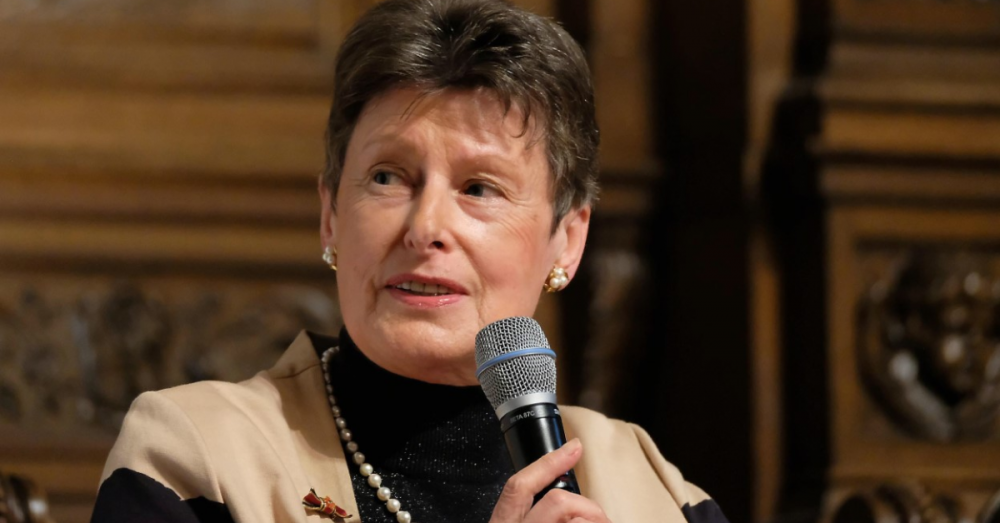 The Nuclear Threat Initiative (NTI) has named Angela Kane, former Under-Secretary-General of the United Nations for Management and former High Representative for Disarmament, as the new Sam Nunn Distinguished Fellow. This NTI position is designed to seed innovation in threat reduction, building on the legacy of NTI Co-Founder and Co-Chair Sam Nunn, who served as chief executive officer from 2001-2017.
Kane will support NTI's program work on global threat reduction, with a particular focus on NTI | bio's initiatives to reduce global catastrophic biological risks by strengthening international coordination in preventing and responding to these devastating events.
"Angela Kane's remarkable career demonstrates her dedication to global threat reduction and her impressive ability to get things done. Her leadership experience at senior levels in international organizations will help further NTI's work and increase our impact," said NTI Co-Chair and CEO Ernest J. Moniz. "We are honored to have Angela join us as our new Sam Nunn Distinguished Fellow."
Beginning August 2, Kane will spend one year at NTI, working in residence the majority of the time.
About Angela Kane
Former Under-Secretary-General of the United Nations
Angela Kane spent over 35 years working for the United Nations, both in New York and in the field. Her last positions were Assistant Secretary-General for Political Affairs, Under-Secretary-General for Management, and High Representative for Disarmament. Prior to taking up the Fellowship, she resided in Vienna and was Vice President of the International Institute for Peace in Vienna and Senior Fellow at the Vienna Center for Disarmament and Non-Proliferation.
Ms. Kane has taught at the Paris School of International Affairs/Sciences Po and at Tsinghua University/Schwarzman Scholars in Beijing. She is the Chair of the United Nations University Council in Tokyo and the Co-Chair of the Regional Council on the Korean Peninsula of the World Economic Forum. She is a member of the Group of Eminent Persons, Comprehensive Test Ban Treaty Organization, as well as a Member of the Group of Eminent Persons for Substantive Advancement for Nuclear Disarmament (Japan). She is also a Member of the European Leadership Network; and chairs and serves on NGO Boards in Europe, United States, and Asia.
About the Sam Nunn Distinguished Fellow Program
The Sam Nunn Distinguished Fellow Program honors NTI Co-Founder and Co-Chair Sam Nunn for his significant impact on shaping the field of WMD-related risk reduction by bringing outstanding talent to NTI on a term basis for the purpose of advancing a strategic priority or seeding new directions in threat reduction.
For more than four decades, Sam Nunn has worked to strengthen U.S. national and global security, reduce nuclear risks and advance bipartisan solutions to our world's greatest challenges. During his tenure in the United States Senate (D-GA, 1972-1996), Senator Nunn conceived of and then co-authored legislation with Senator Richard Lugar (R-IN) creating the Cooperative Threat Reduction Program, widely known as the "Nunn-Lugar program," which provided assistance for more than 20 years to Russia and the former Soviet republics for securing and destroying their excess nuclear, biological and chemical weapons.
Since retiring from the Senate, Sam Nunn has continued his work to build a safer and more peaceful world by spending the majority of his time devoted to reducing the global risks from weapons of mass destruction and disruption. As co-chairman and chief executive officer of NTI from January of 2001 through May 2017, he led the organization's work to secure nuclear materials globally, reduce the chance of a dirty bomb attack, raise awareness of nuclear and biological dangers, and strengthen non-proliferation efforts. Nunn continues to serve as one of NTI's co-chairs, alongside Moniz and fellow NTI co-founder Ted Turner.
The Sam Nunn Distinguished Fellow program is made possible through generous donations from Chevron, Edlow International, the Hess Foundation, the Michael A. Peterson Foundation, Major General Arnold and Jan Punaro, and Southern Company Foundation, Inc., among others.
About NTI
NTI is a nonprofit global security organization focused on reducing nuclear and biological threats imperiling humanity.
For Immediate Release:
July 27, 2021
Contact: Cathy Gwin, 202-454-7706
[email protected]
Stay Informed
Sign up for our newsletter to get the latest on nuclear and biological threats.