Ernest J. Moniz Named New CEO of NTI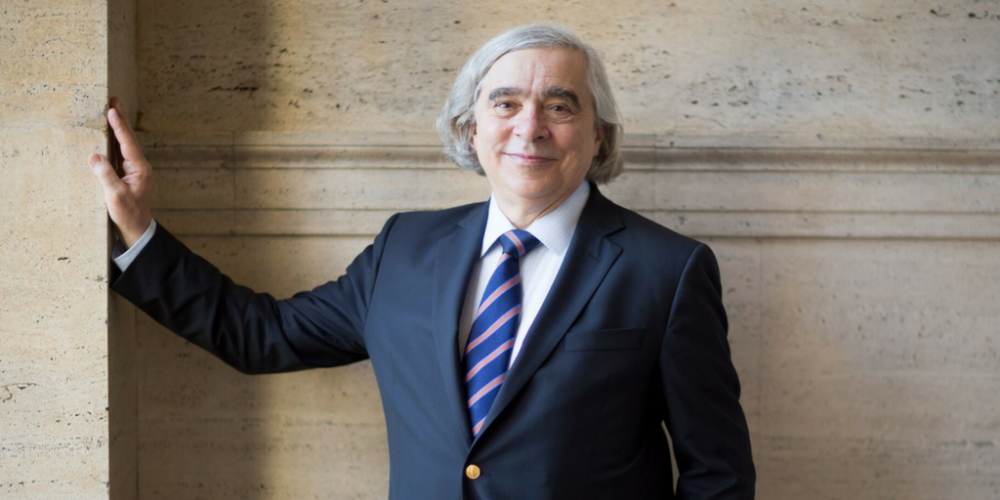 Former U.S. Secretary of Energy Ernest J. Moniz has been named the new chief executive officer and co-chairman of the Board of Directors of the Nuclear Threat Initiative (NTI) effective June 1, 2017.  The announcement was made today by current CEO and Co-Chairman Sam Nunn and Co-Chairman Ted Turner, both of whom will remain as co-chairmen of the Board alongside Moniz.
"We are delighted and honored that Ernie will be NTI's next CEO," said Nunn, who will continue to be actively engaged in NTI projects. "Ernie comes
to us with sterling credentials, deep expertise and enormous credibility in the nuclear and other WMD security fields. Among many other accomplishments, he played a pivotal role in the successful conclusion of the Iran agreement. Ernie is an outstanding leader and a brilliant thinker, who is respected around the globe."
"In addition to Ernie's stellar technical and policy credentials, he brings a great passion for our mission," said Turner. "We believe he is an ideal candidate to step into the CEO role and know that he brings a strong commitment to further strengthen and grow NTI's impact. We are all very grateful to Sam for his extraordinary leadership as CEO over the last 16 years and look forward to our continued work together."
"I am very grateful to Sam and Ted and the entire NTI Board of Directors for this exciting opportunity," said Moniz. "I've admired NTI's work and, drawing
on my experiences in government and in academia, am looking forward to expanding on its successful track record in reducing global risks in the nuclear, biological and cyber domains."
Moniz served as the Secretary of Energy at the U.S. Department of Energy during the Obama Administration.  He is a Ph.D. physicist with a long and distinguished affiliation with the Massachusetts
Institute of Technology (MIT), where he is currently a part-time professor of physics post-tenure and special advisor to the president. His previous MIT roles included head of the Department of Physics and director of the Bates Linear Accelerator Center. He was also the founding director of the MIT Energy Initiative, designed to help develop technologies and solutions for clean, affordable, and plentiful sources of energy. Under his leadership, MITEI supported approximately 800 research projects at the Institute, had 23 industry and public partners supporting research and analysis, established an energy minor program for undergraduates, and engaged more than 25 percent of the MIT faculty in its projects and programs.
He previously served in government as Associate Director for Science in the President's Office of Science and Technology Policy and as Undersecretary of Energy during the Clinton Administration, where he was responsible for overseeing DOE's science and energy programs, led a comprehensive review of nuclear weapons stockpile stewardship, and served as the Secretary of Energy's special negotiator for the disposition of Russian nuclear materials.
Stay Informed
Sign up for our newsletter to get the latest on nuclear and biological threats.