NATO Action and Accountability Needed, Says Nunn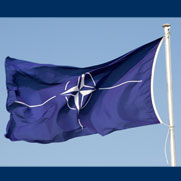 As global leaders gather in Wales for "the most consequential NATO meeting since September 11," NTI Co-Chairman Sam Nunn calls for NATO to commit to an action plan for improving its defense capabilities, for reassuring members of the Alliance—in particular those who share a border with Russia—and for strengthening deterrence against any form of aggression.
In his commentary, Nunn addresses NATO accountability, NATO membership and the need for diplomatic solutions in the high-stakes conflict in Ukraine.
NATO member states must be held accountable for their commitments, notes Nunn. He calls on NATO to commit to "publicly scoring" the contributions and improved military capabilities of its members and to review progress every six months. "NATO members have an historic pattern where pledges and promises on necessary military improvements vastly exceed implementation," says Nunn.
The ongoing conflict in Ukraine threatens security and stability throughout Europe, says Nunn. "A new Cold War in Europe is not inevitable, but unless the leadership in Russia, Europe, the United States and Ukraine find a diplomatic and economic approach, we are certainly headed in that direction," he writes. "There will be no winners if the present conflict continues or expands."
The stakes are high for the United States, Russia and Europe, warns Nunn. "NATO must leave the door open to working with Russia on areas of shared vital interest—such as nuclear terrorism and proliferation—and broader cooperation on Euro-Atlantic security," he says. "It will take time to rebuild trust, but NATO should be clear that it will do its part."
On NATO membership, Nunn makes several observations: "I strongly disagree with the often-repeated notion that Ukraine or Georgia or any other nation has a 'right' to join NATO…Russia should not be able to tell a sovereign nation that they cannot join NATO…NATO must make its own decision on who joins the alliance, and it should be based on the security of the alliance and the region."
###
Stay Informed
Sign up for our newsletter to get the latest on nuclear and biological threats.