NTI Board Elects Des Browne Vice Chairman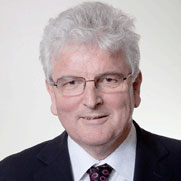 In Expanded Role, Former UK Defense Minister
To Contribute to Strategic Direction, International Outreach

WASHINGTON, DC — Former UK Defense Minister Des Browne has been named Vice Chairman of the Nuclear Threat Initiative (NTI), Co-Chairman Sam Nunn announced today.
Browne currently serves on NTI's Board of Directors and will take on additional responsibilities to help shape NTI's strategic direction. This will include long-term planning and extended involvement in NTI's international outreach.
"I am delighted that Des has agreed to take on this expanded role with NTI as we look to the future," said Nunn. "Des is a superb leader and strategic thinker. I am confident that he will be a tremendous asset to our Board of Directors and our NTI team, as we continue our mission of reducing the risk of weapons of mass destruction and expand our international leadership."
"I am delighted to take on this new role with NTI," said Browne. "From the Nuclear Security Summits and NATO decisionmaking, particularly with the crisis in Ukraine and all its echoes of the past, to the tentative progress in Iran and continued uncertainty in North Korea, the coming two years will be a critical time for action on the nuclear threat. I look forward to working with Sam, NTI President Joan Rohlfing and the NTI Board as we poise NTI to work even more effectively on these issues."
Browne's new role begins on March 12, 2014.
About Des Browne
Browne was elected Member of Parliament for Kilmarnock and Loudoun in 1997 and represented that constituency until 2010. In 2006, he was appointed British Secretary of State for Defense and from 2007 to 2008; he combined this role with the role of Secretary of State for Scotland. Browne has been the convener of the Top Level Group of UK Parliamentarians for Multilateral Disarmament and Non-Proliferation since October 2009, as well as the founder and convener of the European Leadership Network since its inception in 2010. In July 2010, he was introduced to the House of Lords, where he took the title Lord Browne of Ladyton.
About the Nuclear Threat Initiative
NTI is a nonprofit, nonpartisan organization working to reduce the global threats from nuclear, biological and chemical weapons. NTI is co-chaired by Sam Nunn and Ted Turner and governed by an international board of directors. The organization's activities are directed by Nunn, who serves as chief executive officer, and Joan Rohlfing, who serves as president. Learn more at www.nti.org
###
Stay Informed
Sign up for our newsletter to get the latest on nuclear and biological threats.