Sam Nunn Honors Ted Turner's Legacy at Portrait Unveiling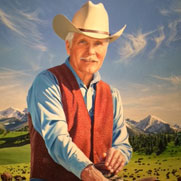 NTI Co-Chairman Sam Nunn honored NTI's co-chairman and co-founder Ted Turner at an event Tuesday at the National Portrait Gallery to unveil the media mogul and philanthropist's portrait.
"Ted never entertains – even for a moment – the thought that any mission is impossible or any target unreachable," said Nunn, speaking on behalf of NTI. "He has the ability to see what others can't, take risks others won't, set goals others find breathtaking and invest his time, his passion, his intellect and his resources to turn dreams into reality."
Nunn also honored Turner's incredible career and personal milestones and celebrated his role in launching NTI. "Thank you for your bold vision, your candor, your energy, your passion, your sense of humor, your friendship and your love of the Earth and all of humanity. I am proud to be your partner," said Nunn.
Stay Informed
Sign up for our newsletter to get the latest on nuclear and biological threats.