Atomic Pulse
Building a New Website for a Safer World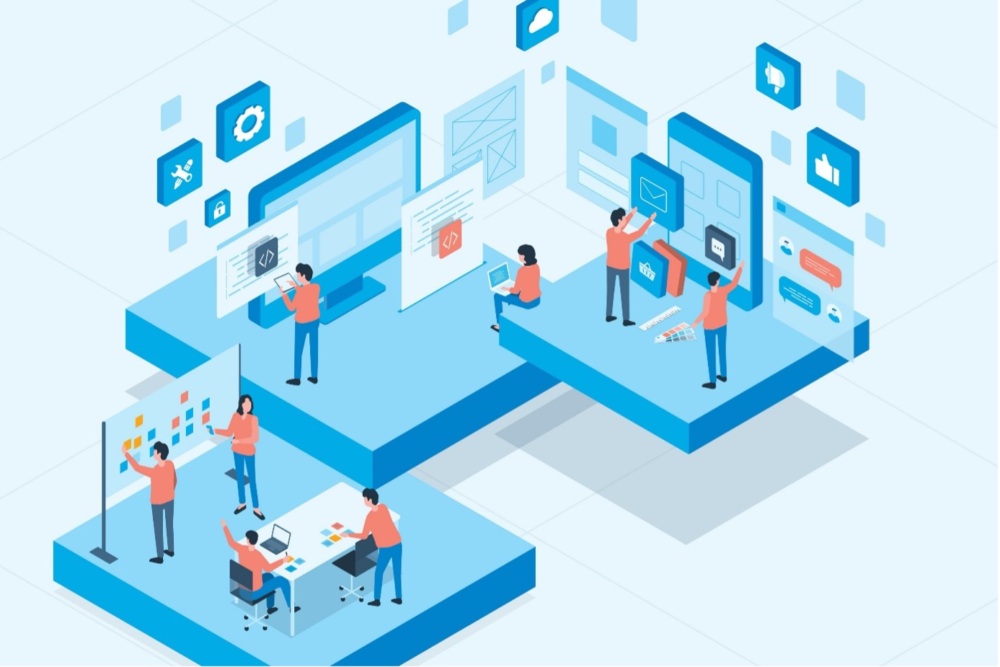 New colors, new fonts, new images. New Nuclear, Biological, Science and Tech focus areas with new program and project pages. Hundreds of security upgrades and technical advances. A "Wikipedia of nukes" with 15,000 pieces of content that needed to be reorganized and uploaded.
Where to begin?
This was the question Rachel Staley Grant and I wrestled with on June 3, 2020 when we logged in for our first virtual meeting about rebuilding NTI's aging website. We laughed, then sighed, and then got to work—a pattern we would repeat countless times over the next 16 months to get to the launch of the website where you're reading this now.
The time between that June 3rd meeting and today can be described as a marathon. As in a 26-mile race, there were benchmarks of progress along the way and achievements celebrated as we went. But until the website is live at www.nti.org, like posting that picture of yourself in Instagram wearing the marathon finisher medal, there also were moments of doubt and despair.
Now that we've run out of deadlines to meet, feedback to aggregate, and screens to share, I'd like to share the story of how we set our priorities for the site and got to the finish line.
Setting Priorities
Building a site that reflects the modern NTI and positions us for the future
NTI has changed quite a bit since the last time we designed our website! This is reflected in the focus areas highlighted on the site (hello there, Nuclear, Biological, Science and Tech), our strategic priorities, our impact model, and more.
As we work to educate and engage diverse audiences on our issues, we needed a website that allowed us to both clearly communicate our vision of a world safe from preventable global catastrophe, and provide ways for all of you to join us as we work to achieve it. Our new platform offers avenues to do this right now, as well as room to expand these efforts in the future.
Bringing our extensive content library to life
NTI's website is unique in many ways, but our extensive set of resources on nuclear and biological threats is unmatched. Updating the so-called "Wikipedia of nukes" was critical to the success of the project because we want users to be able to easily find and engage with the information they're seeking.
That's why we devoted significant time and attention to developing new country profiles, interactive facility and treaties/regimes maps, and a revamped education center that serves as the entry point for much of the content developed for NTI by the James Martin Center for Nonproliferation Studies.
Updating our web tech
The last time we were able to make foundational changes to our website, the iPhone 7 was just out and 5G was a pipedream. Technology moves fast, and the technical and security infrastructure of our site was clearly due for an upgrade.
We also wanted to give the site fresh coat of paint. While design and aesthetic preferences don't follow the same linear path of technological progress, it was time to move the site's look and feel into 2021 and to have it reflect our hopeful outlook for the future where we can eliminate catastrophic and existential risks to humanity.
Getting there
Teaming up with Teal
After teaming up with Teal Media to build the site, we started an in-depth discovery process to calibrate and refine our goals and chart the course to reach them. We interviewed people who use our site extensively, published a survey for the public to weigh in, and had lots and lots of meetings with all corners of the NTI team.
That process helped us develop answers to questions like, "How should we organize the content on the new site?" and "Do we need to bring everything over from the old site?" We also had to reach consensus on fonts and colors and images and layout. To get it right, we spent the winter and spring in developing a content strategy, building a website blueprint, and creating a modern design.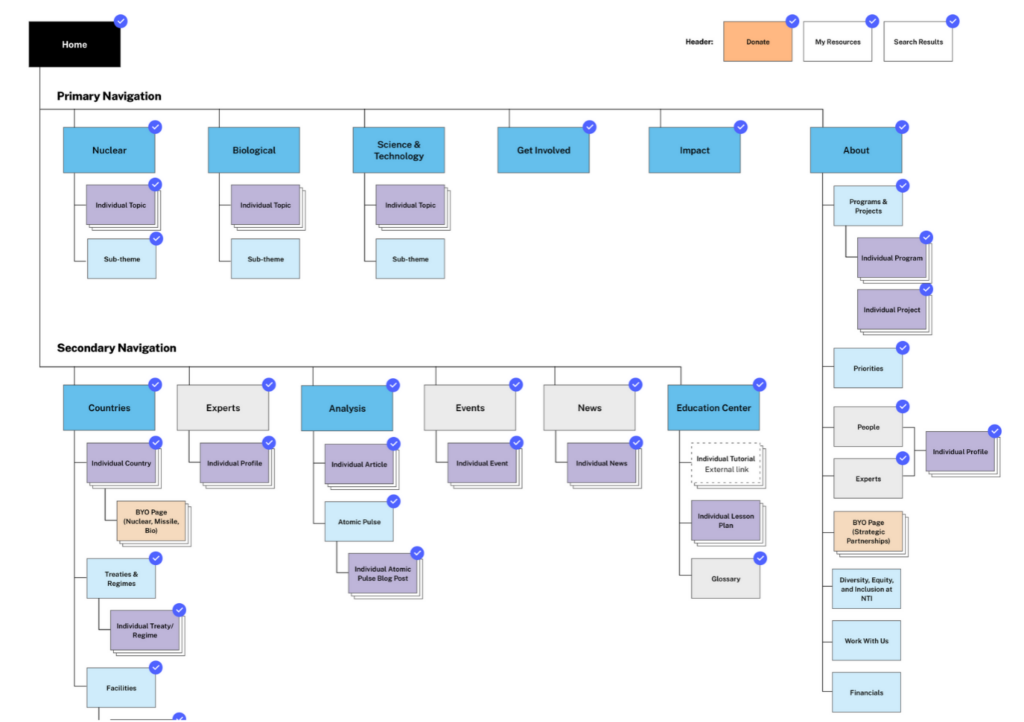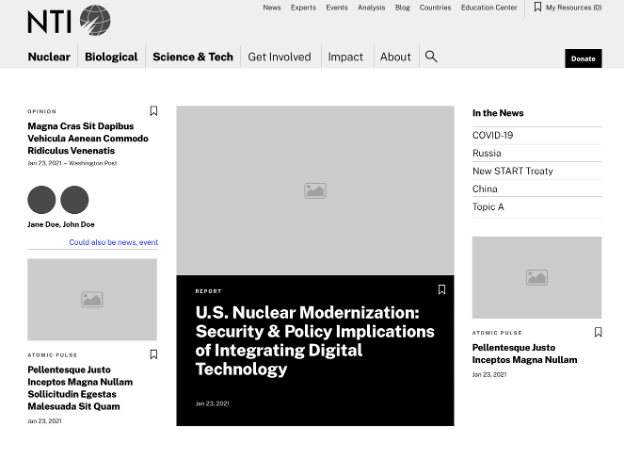 Creating a new content library
To make our vast content library more accessible and engaging, we needed to rework the website taxonomy. To say that we started from scratch would be an overstatement, but we did look at every piece of the old website's structure and ask whether it still served its purpose. In some cases, the answer was a clear no; in some a clear yes. Sometimes the content and its presentation just required a little bit of tweaking. What does that process look like? Many hours with many people in teams across NTI and CNS looking at an enormous spreadsheet. A website with more than 15,000 pieces of content that need to be reorganized can only be done by meticulously and methodically pouring over thousands of rows in excel. This is a part of the website rebuild that only the strongest nostalgia could make seem fun—but it was arguably the most important.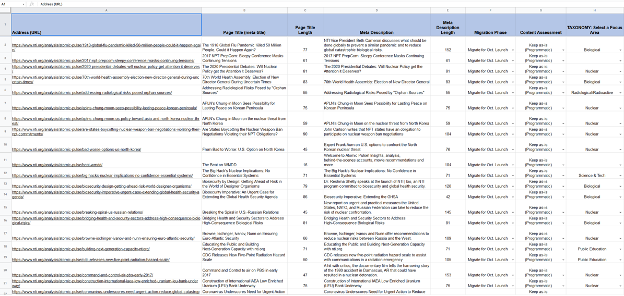 Building the site
Then there's the part where we build it. Once we had our wireframes, our designs, and our completed spreadsheet, our colleagues at Teal got to work writing the code that would make the website ready to be released into the wild. While Teal did that work, the team at NTI got busy preparing the words and images you see on the brand–new pages. Once the old website's content was programmatically migrated at the beginning of September, NTI's communications team worked furiously to populate those new pages. During this "pre-launch, post migration" period, we effectively had two websites that needed to be maintained, a bit like flying two planes—one of which was being built at the same time. We also needed to proof the content and test the site's functionality—a process that involved many of our co-workers across NTI.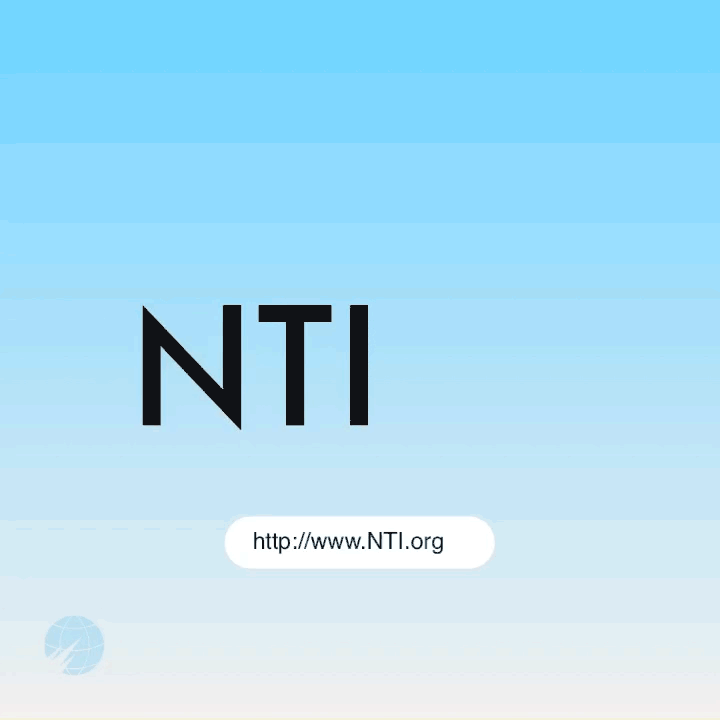 We quietly made the site live last week to work out any remaining bugs and get used to using it ourselves. Today, we are proud to show off our new website! This may be our marathon medal on Instagram moment, but I know that what we've learned during the robust and collaborative web development process will continue to serve us well into the future.
Stay Informed
Sign up for our newsletter to get the latest on nuclear and biological threats.
More on Atomic Pulse
Angela Kane on Reducing Global Catastrophic Biological Risks and the Importance of Personal Connections in Diplomacy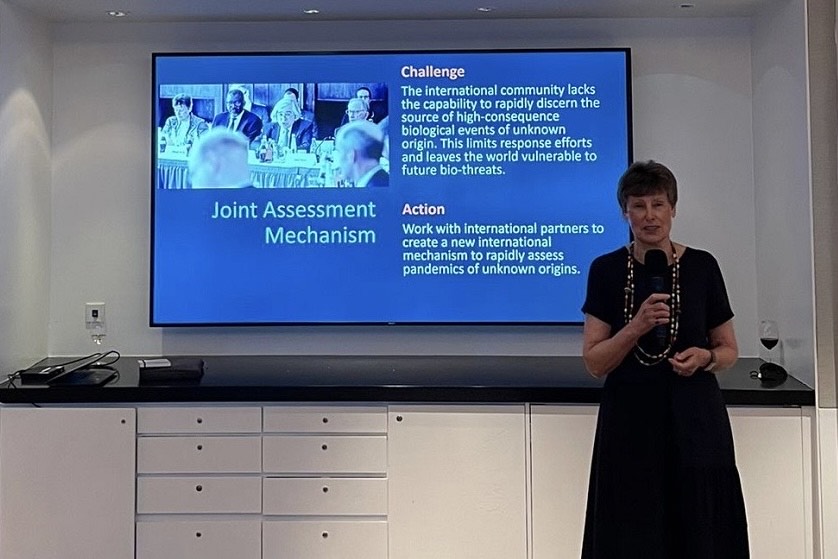 Angela Kane on Reducing Global Catastrophic Biological Risks and the Importance of Personal Connections in Diplomacy
Angela Kane sat down with Communications Intern Maggie Thomas to reflect on her last year as the Sam Nunn Distinguished Fellow at NTI.
---
Sculpting a Safer World: Paper Artist Jeff Nishinaka on His Art and Connection to #CranesForOurFuture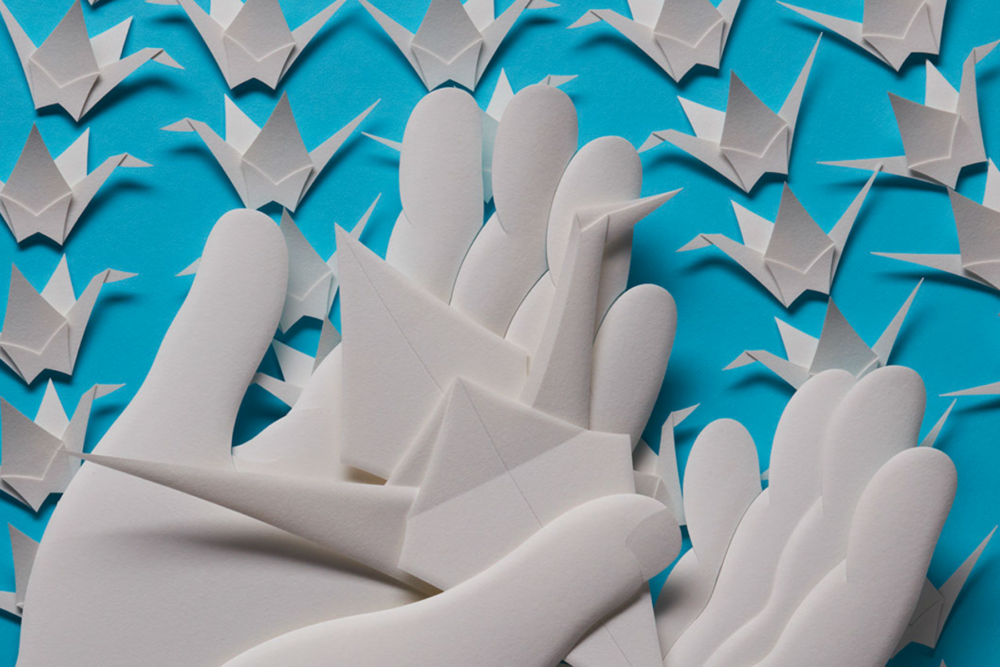 Sculpting a Safer World: Paper Artist Jeff Nishinaka on His Art and Connection to #CranesForOurFuture
Paper artist Jeff Nishinaka discusses his art and the #CranesForOurFuture campaign.
---
#CranesForOurFuture: What Does a World Without Nuclear Weapons Mean to You?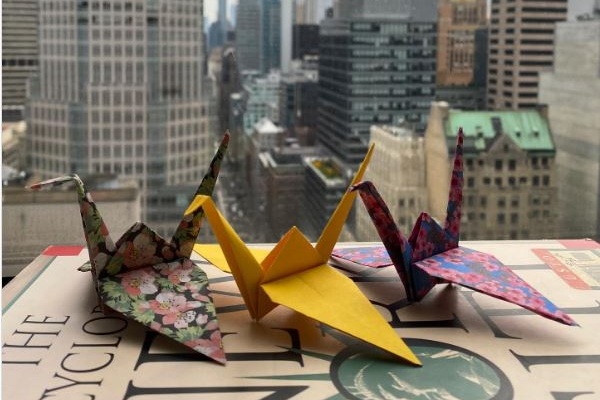 #CranesForOurFuture: What Does a World Without Nuclear Weapons Mean to You?
Join us Aug. 5-9 in sharing images of folded cranes on social media with the hashtag #CranesForOurFuture and your answer to the central question: What does a world without nuclear weapons mean to you?  
---