Atomic Pulse
Marking Women's History Month: Women of NTI on Mentors, Overcoming Obstacles, and Advice for the Next Generation

This post was written by Ashley Fakhimi, an intern with NTI's Communications team. Originally from California, she's currently a graduate student at American University, where she studies the relationship between the environment and peace and conflict.
In honor of Women's History Month, we asked some of the women on NTI's staff to reflect on how they were inspired to join the field of global security and any struggles they faced along the way. They also offer advice for new generations of women entering the global security field.
Joan Rohlfing, president and chief operating officer
Rohlfing is an NTI founder and was a member of the team that created the mission and scope for the organization in 2000. Before joining NTI, Rohlfing held senior positions with the U.S. Department of Energy during the Clinton Administration, as senior advisor for national security to the Secretary of Energy and as director of the Office of Nonproliferation and National Security. In 1999-2000, following nuclear tests in India and Pakistan, she served at the U.S. Embassy in New Delhi, advising the ambassador on nuclear security issues. Earlier, she served on the staff of the U.S. House Armed Services Committee and in the Office of the Secretary of Defense (OSD).
Is there a woman or women who inspired you to work in the field of global security?
I was inspired to work on nuclear issues during a college year abroad in Europe in the 1980s. At that time, the U.S. was in the process of deploying new nuclear missiles in NATO countries, and I witnessed numerous demonstrations against those deployments across Europe. Those protests sparked my interest in learning more about nuclear weapons. Soon after I returned to the U.S., I was introduced to Professor Catherine Kelleher, an expert in international security and a female trailblazer in the field. It was Catherine who recruited me to grad school at the newly established School of Public Affairs at the University of Maryland. She literally showed me, and a whole generation of young women (and now it has been several generations of women) that it was possible to build a career in what was then an almost exclusively male domain. I credit Catherine for her support and encouragement of me personally, and most importantly, for serving as a role model for so many women in the field.
Are there any obstacles you've encountered as a woman during your career and how did you overcome them?
I've encountered many obstacles along the way, but the field has evolved considerably since I first entered it in the late 80s. I started my career at the Pentagon and found very few professional women there (there was literally one in all of OSD) who could serve as a mentor or role model. It was common to be asked in all-male meetings if I was there to take notes, and if not, why was I there? Indeed, I was once told that I could not be briefed on a particular program because I was a woman. This might sound unimaginable now, but it was par for the course at that time. We've come a long way.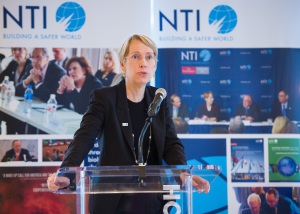 As with any challenge, it's important to develop management and coping strategies: perseverance, building a support network, and learning how to speak up for oneself as well as for other women were all important tools.
Do you have any advice for the next generation of women who will work in global security?
Yes! Don't be afraid to speak up and share your own perspectives, even if your views are not considered mainstream within an organization. In many institutions women have progressed by conforming to existing (previously male-dominated) institutional cultures and belief systems. Michèle Flournoy described this phenomenon as donning a "consensual straight-jacket." To get ahead, women had to conform. As more women entered the security field, however, the space grew for us to bring fresh perspectives that change and strengthen institutions for the better. Diversity builds better, more effective, and resilient organizations. Women less frequently need to wear the "consensual straight-jacket" now. Take advantage of the ground-breaking work of other women before you and use your voices to show the generation after you what it looks like when women are free to project their unique perspectives into the security field globally. The world will be the better for it.
---
Erin D. Dumbacher, senior program officer for Scientific and Technical Affairs
Dumbacher has worked to strengthen cybersecurity for nuclear weapons systems and facilities, to improve nuclear security globally through the NTI Nuclear Security Index, and to apply emerging technologies to non-proliferation challenges since she joined NTI in 2017. Dumbacher has a master's degree in conflict management and international economics from the Johns Hopkins University School of Advanced International Studies (SAIS) and a bachelor's degree from the Elliott School of International Affairs at the George Washington University. She was a Fulbright research fellow in Tallinn, Estonia in 2010. Previous to NTI, Dumbacher was a director at CEB (now Gartner), a research and advisory firm. From 2007-2012, she served in corporate strategy and research management roles at Atlantic Media. She also has worked in the cyber and national security team of the U.S. Office of Management and Budget.
Is there a woman or women who inspired you to work in the field of global security?
There are many women who have modeled good professional practices for me and dedication to important causes like non-proliferation, but I've also been inspired by men who did not have a gendered approach to mentorship, promotion, and professional development. I've been fortunate to have a number of male managers who pushed me to do challenging work, gave me useful feedback, offered me new roles. They were really sponsors for me, just like some of the female managers I've had who showed me it was all possible.
Are there any obstacles you've encountered as a woman during your career and how did you overcome them?
I've experienced a good amount of implicit bias about my knowledge and capabilities. Perhaps because I've worked in a few different sectors, I've encountered the assumption that I didn't know important background or basic relevant facts. I've walked into rooms or sent emails with comments and received very elementary "advice" or "background" that someone assumed I didn't know or have. Of course, there were times that I didn't know these things and was happy to learn them, but many, many times it was man-splaining!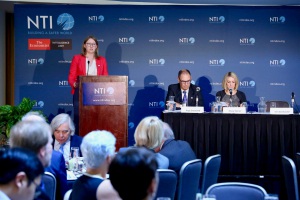 I sometimes think that men more often are given the benefit of the doubt when they engage on new issues or meet someone—as if they're supposed to be in the room, no questions asked, while women have to prove we should be there.
How do I manage this? Often, I've smiled and nodded. Sometimes I interrupted to say, "Yes, I'm aware of X but could you tell me about Y?" Other times, it's motivating, and I've tried to demonstrate in my next interaction that I knew all of what they told me and more. I try to think about the long game and show them my capabilities and understanding of an issue through multiple interactions. And I try to not do the same to others by starting with level-setting questions before I launch into talking point after talking point—this seems like a good practice for anyone and everyone. Honestly, it is draining and is likely even worse for women of color. There have been other obstacles, too, but this is probably the most frequent and exhausting that I encounter.
Thankfully, I've personally only dealt with limited sexual harassment in workplaces. But our standards are too low because as I say that, I think, "it was just comments about the height of my skirt, no big deal!"
Do you have any advice for the next generation of women who will work in global security?
Yes! Whatever your background and experience, there's a place for you to work on security issues, even if not in the way you first expect. Acknowledge but do not be discouraged by any elitism or cultural push-back you encounter when you share new or different ideas. Diversity of opinion, ideas, questions, etc., drives creativity and improves outcomes. The field of global security needs new ideas and energy to solve what seem like intractable problems today. Your involvement is essential.
Samantha Neakrase, acting program lead for Materials Risk Management
Neakrase has led two major projects at NTI: the NTI Nuclear Security Index and the Global Dialogue on Nuclear Security Priorities, and her recent focus also includes cyber security of nuclear weapons and related systems and nuclear facilities, U.S.-Russia relations, and nuclear weapons policy and disarmament. In 2012, Neakrase completed an MPA degree at the Harvard Kennedy School, where she focused on foreign policy and national security and received the Donald K. Price Award for academic excellence and community service. She also served as a research assistant for David Sanger on his book Confront and Conceal: Obama's Secret Wars and Surprising Use of American Power. Prior to attending the Kennedy School, Neakrase practiced law at Simpson Thacher & Bartlett LLP and clerked for the Honorable Maryanne Trump Barry on the U.S. Court of Appeals for the Third Circuit. Neakrase is a term member of the Council on Foreign Relations. She holds a BA from St. Olaf College and a JD from Villanova University School of Law, where she was elected to the Order of the Coif.
Is there a woman or women who inspired you to work in the field of global security?
I actually got into this field because of three male mentors – all professors at grad school. But since starting this career at NTI in 2012, there are several people who've kept me inspired to keep working in this field and to try to perform better (whether public speaking, communicating in meetings, thinking analytically, or being a good manager). Joan Rohlfing, our president, has demonstrated such poise and ability to lead in her own way and to be herself while working in a male-dominated field. When I feel a loss of fortitude, I think about times I have seen her use patience, determination, and her considerable smarts to make herself heard. Corey Hinderstein, the VP for Fuel Cycle, is someone who I always say I want to be like when I grow up, even though we are similar age. Her mind is just so good at distilling concepts into these wise revelations that just make me stop and say "wow." And she leads with such grace and humor. She is so smart, knows her stuff, and is so cool. And finally, Laura Holgate, VP for my program, is someone I admired from afar before she worked at NTI. I saw her operate with such confidence and clarity of opinion. I marveled at how she could command the room, or command the dinner table, with people seemingly under her spell. To me, she just seemed like a celebrity. And of course, she really knows her stuff. I like to imagine one day being able to project that kind of confidence and charisma.
Are there any obstacles you've encountered as a woman during your career and how did you overcome them?
I've found that men don't get saddled by feelings of doubt or lack of confidence as much as women. I can't count how many times I've seen men who I know do not know the topic offer their opinions without any pause. I've had some experiences trying to overcome this. When I moved to a different program at NTI with limited experience in that program's subject matter, I felt like I couldn't offer my opinions on topics during meetings because I had no basis to do so – no specific experience with the subject matter in government or no articles or speeches on the topic – compared to others.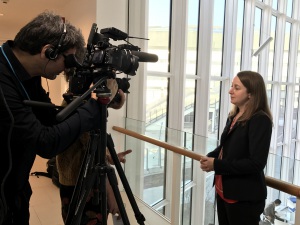 I think many women suffer from imposter syndrome, even when they do know a topic well. In my case, it was heightened by moving to managing a program on a more unfamiliar topic.
I tried to learn by doing and by reading and thinking about the topic and developing ideas outside of meetings so I could be ready to defend them. But I would still pause in meetings. Finally, Joan Rohlfing, our president, sat me down in my performance review and told me "Sam, you have a lot to offer. You have good ideas. Don't let the fact you have less experience in the subject as others deter you. We value your opinions and insights. In fact, it's good to have fresh ideas." Having this kind of validation from leadership really helped me to overcome those fears.
Do you have any advice for the next generation of women who will work in global security?
I would advise women to find mentors and confidantes who you can really talk to about your career and who can help guide you through the many minefields that exist being a professional woman, no matter what field you choose.
You will need to find ways to project confidence, be strong in the face of domineering men (and sometimes women) and make yourself heard.
Doing so with other women standing behind you and rooting for you, believing in you, and advocating for you will make things easier. It goes without saying that being prepared, knowing your stuff, being detail oriented, and being a team player are things everyone should strive for, but probably are more important for women. Believe in yourself. Find your voice. Don't apologize for your opinions. And make sure you support other women on your way up.
Katherine Budeski, Program Officer with Global Biological Policy and Programs (NTI | bio)
Budeski is a graduate of Montana State University with a Bachelor of Science and Biochemistry and Honors Baccalaureate with minors in Hispanic Studies, Political Science, and Global Health. In college, Budeski worked in a biochemistry laboratory and mass spectrometry facility researching biomarkers for liver cancer and developing novel technologies for biomarker analysis.
Is there a woman or women who inspired you to work in the field of global security?
When I was a junior in college, I took a class called "National Security Policy Decision Making: Sitting in the Hot Seat at the White House" taught by Ambassador Brooke Anderson. As a biochemist, I was really intrigued by the work we did analyzing biological threats.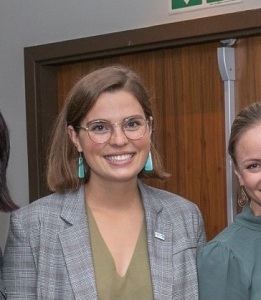 It was because of her encouragement that I applied for an internship at NTI, where as a program officer, I am constantly inspired by my teammates in addition to the many amazing women and non-binary folks in the global health security field.
Are there any obstacles you've encountered as a woman during your career and how did you overcome them?
I've definitely seen how women are conditioned to second-guess themselves, to be nice, to be quiet. The women who came before me set the example I follow – being confident in my abilities and knowing my worth.
Do you have any advice for the next generation of women who will work in global security?
There's a lot to share, but I would start by reminding them that the landscape of global security requires solutions that are both interdisciplinary and equitable. These need to account for the complexity and historical inequity that has plagued the foreign policy field for so long. The next generation should be bold in their solutions.
Rachel Staley Grant, Senior Director on the Communications team
Staley Grant works closely with NTI's Global Biological Policy and Programs (NTI | bio) and the International Fuel Cycle Strategies teams. She directs outreach work on major projects for both, including the Global Health Security Index and the International Partnership for Nuclear Disarmament Verification. Staley Grant also works with partners at the James martin Center for Nonproliferation Studies (CNS) on the development of educational content for the NTI website. Previously, she managed programs and operations for the British American Security Information Council in London. She also is a founding trustee of Future Foreign Policy, an international think tank that works to enhance and promote the voices of young people. Staley Grant has a master's degree in Non-Proliferation and International Security from King's College London and a bachelor's degree in International Affairs and Anthropology from Northeastern University.
Is there a woman or women who inspired you to work in the field of global security?
My college professor at Northeastern University, Dr. Denise Garcia, played a major role in inspiring me to work on these issues. I studied international affairs and anthropology as an undergraduate, but it was after taking her course and traveling with her and other students to Geneva to study international governance and disarmament diplomacy that I really was inspired to work on these issues.
I also am inspired by the women who have helped shape nuclear activism and played a role in nuclear decision-making throughout history. I did a lot of research on this in graduate school (I recommend Carol Cohn's "Sex and Death in the Rational World of Defense Intellectuals" for anyone interested in further reading). The world of nuclear weapons has been predominantly been a man's one, but women are making a mark and it's important that we continue to do so.
Are there any obstacles you've encountered as a woman during your career and how did you overcome them?
There were definitely times when I was the only woman in meetings, and as a younger professional that definitely hindered my confidence at times.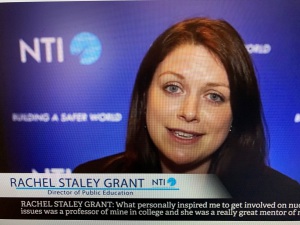 I turned to other colleagues – women and men – and built myself a support network where I could talk about experiences like these and that I could turn to for advice to bolster my career goals.
Do you have any advice for the next generation of women who will work in global security?
I've noticed in the past few years there has really been a push to codify networks and opportunities for women and young professionals working in the nuclear or global security sectors. Take advantage of these! Don't be afraid to put yourself out there – whether it's on social media, on zoom happy hours, or at masked networking events. I know it's hard with the current global health crisis, but it's important take advantage of educational, network building, and professional development opportunities as much as possible. The other piece of advice is to hold yourself accountable to your goals and ambitions. Write them down or tell someone. It will help you work on them and make progress in the long run.
Stay Informed
Sign up for our newsletter to get the latest on nuclear and biological threats.