Next Generation for Biosecurity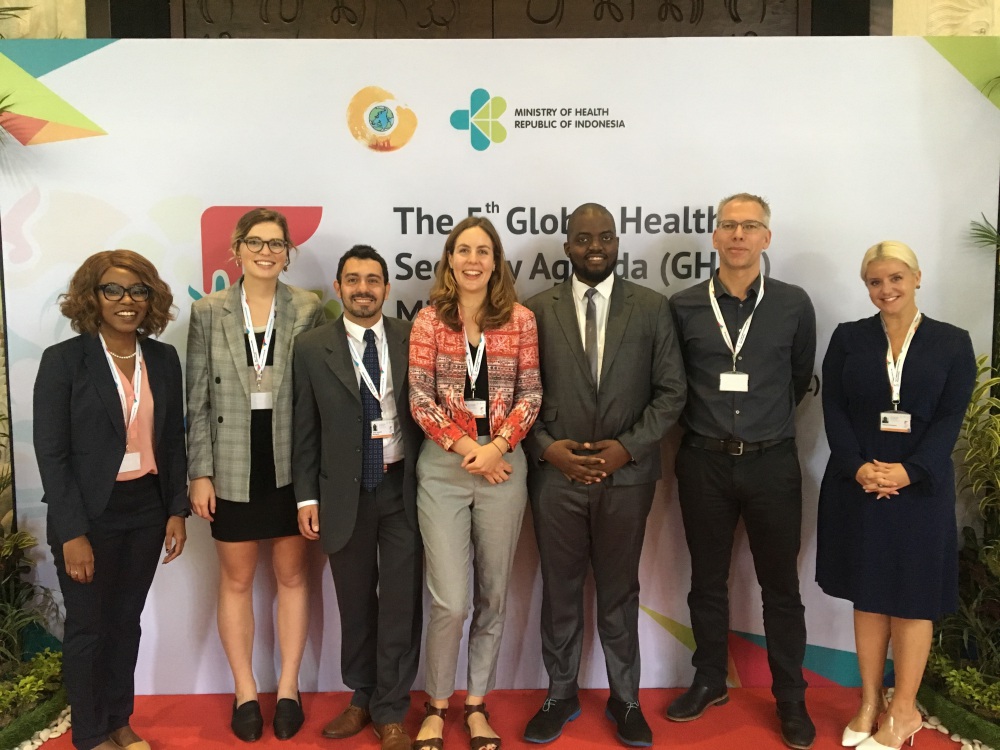 ---
Cultivating the Next Generation of Global Biosecurity Leaders
Challenge
Addressing biological risks requires specialized multi-sectoral expertise, including in biosafety and biosecurity, but there is an overall dearth of global experts and limited geographic and gender diversity among those working in the field.
Action
An annual competition to bring together rising young leaders from around the world and across a range of sectors to work together to devise innovative solutions to prevent, detect, and mitigate globally catastrophic biological risks.
Results
An energized, internationally connected, and diverse network of next-generation biosecurity leaders who are working to strengthen global biosecurity and reduce the risk of deliberate and accidental catastrophic biological events.
NTI | bio partners with the Next Generation Global Health Security (GHS) Network to host the annual Next Generation for Biosecurity Competition, which fosters professional development for rising global leaders in support of Global Health Security Agenda (GHSA) biosecurity targets.
The Next Generation for Biosecurity Competition seeks to:
Promote dialogue about the potential for deliberate and accidental catastrophic biological events within international fora, such as the GHSA, that generally focus on naturally occurring biological threats;
Raise awareness within the global health security community about significant biological risks associated with advances in biotechnology;
Strengthen national and regional capabilities to achieve GHSA and World Health Organization Joint External Evaluation biosecurity and biosafety targets;
Create linkages between established global biosecurity experts and next-generation leaders;
Promote diversity, equity, and inclusion within the global health security community; and
Foster the development of a global cadre of diverse, multi-sectoral next-generation biosecurity leaders committed to reducing catastrophic biological risks and strengthening biosecurity.
Since its launch in 2017, the Next Generation for Biosecurity Competition has successfully increased awareness of deliberate and accidental biological risks within the broader global health security world and created opportunities to highlight rising biosecurity leaders. Winners of the competition have hailed from Argentina and Azerbaijan to Uganda and the United Kingdom and have presented their unique proposals and ideas at side-events of global forums such as the Biological Weapons Convention Meeting of States Parties and the Global Health Security Agenda Ministerial Meetings.
Winning teams have summitted proposals like developing a centralized communications hub and database of biosecurity resources and building a virtual online community to facilitate biosecurity and biosafety discourse on international norms in the life sciences. In 2018, the Next Generation for Biosecurity Competition winning team received $15,000 to build a series of eLearning modules called 'Act Like a Pro,' which guided users through various scenarios for students and young professionals to explore career options in biosafety or biosecurity in different settings. Users watched biosecurity and biosafety experts work to implement the International Health Regulations in Uganda, follow biosecurity and biosafety procedures in a laboratory in Argentina, and think about dual-use research dilemmas in the United Kingdom. In 2020, amid the COVID-19 pandemic, the Next Generation for Biosecurity Competition winning paper used publicly available data, including the GHS Index, to identify categories of research that pose unique dual-use risks and provide recommendations to address them without undermining pandemic preparedness and response.
Going forward, NTI | bio will strive to expand the competition's geographic reach, the number of submissions, and the geographic and sectoral diversity of participants.