Global Enterprise to Strengthen Non-Proliferation and Disarmament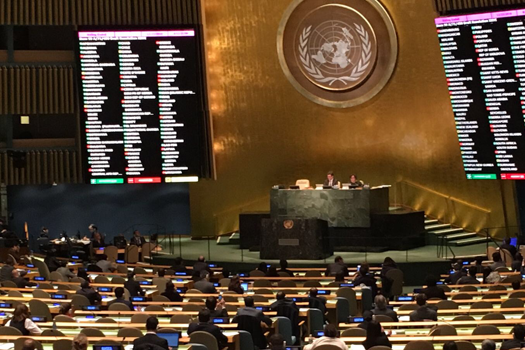 ---
Working toward a shared vision of a nuclear weapons-free world
Challenge
The risks of nuclear use, proliferation, and terrorism are increasing, and international divisions on nuclear deterrence, disarmament, and steps to prevent nuclear use threaten the Nuclear Non-Proliferation Treaty (NPT) regime.
Action
Convene a high-level, international dialogue to drive fresh, creative thinking, generate new ideas, and address political divisions that are stalling progress toward building a safer world.
Results
Short-term, concrete progress within the NPT to support a successful 2020 NPT Review Conference and enhancing relationships to help rebuild global cooperation on a shared, long-term vision of a world without nuclear weapons.
The Treaty on the Non-Proliferation of Nuclear Weapons (NPT) is a multilateral agreement aimed at limiting the spread of nuclear weapons. Centered around a "grand bargain" between the five officially recognized nuclear weapon states (China, France, Russia, the United Kingdom, and the United States) and 186 non-nuclear weapon states, signatories agree to three main principles: 1) states without nuclear weapons will not acquire them, 2) states with nuclear weapons will pursue disarmament, and 3) all states can access nuclear technology for peaceful purposes, under safeguards. Since its entry into force in 1970, the treaty has been ratified by 191 states-parties. Notably, the world's four other nuclear armed states are not party to the treaty: India, Israel, and Pakistan have not signed, and North Korea was a state-party but withdrew in 2003.
Per the terms of the NPT, states-parties convene every five years for a Review Conference (RevCon) to review implementation of the treaty and discuss a forward-looking agenda. The 2020 NPT RevCon has been postponed due to the COVID-19 pandemic. However, 2020 marked the 50th anniversary of the landmark regime's entry into force—an important milestone that presents an opportunity for countries to sustain, reaffirm, and demonstrate the vital contribution of the NPT to preventing nuclear proliferation and advancing the goal of nuclear disarmament.
Unfortunately, the international community has become increasingly divided over the role of nuclear deterrence, the vision of nuclear disarmament and the commitment of states to arms reduction, as well as the steps required to prevent the proliferation and use of nuclear weapons. This polarization increasingly challenges the stability of the NPT regime and its role as a central and credible forum for dialogue and progress on preventing proliferation, fostering the peaceful use of nuclear energy, and advancing nuclear disarmament.
For these reasons, NTI in 2018 launched the Global Enterprise to Strengthen Nonproliferation and Disarmament (GE). The multi-year Track 1.5 initiative was designed to help strengthen the NPT regime and contribute to a successful 2020 RevCon by developing ideas for practical steps, new initiatives, and tangible commitments that demonstrate the ability of NPT parties to work together to advance the treaty goals.
Plenary meetings of the GE are convened twice a year, and informal meetings are held regularly on the margins of international conferences.
Global Enterprise Meeting Details
Since 2018, the Global Enterprise (GE) has regularly convened meetings with officials from more than 20 countries. The meetings provide an informal setting for participants to better understand various perspectives and priorities, identify areas of agreement, and work collaboratively to find creative solutions to difficult problems in advance of the (delayed) 2020 NPT RevCon. GE participants include officials from a diverse group of governments and a small number of non-government experts who reflect a range of views and backgrounds.
October 2018: Global Enterprise Plenary
At the first GE meeting in October 2018, participants engaged in a dialogue on the various perspectives related to the goal of a nuclear-weapons-free world, areas of convergence and overlap in purpose and goals across these perspectives, and possible areas and options for collective action. Participants focused on the need to develop actionable and realistic near-term steps to facilitate the implementation of previous commitments made at prior NPT RevCons.
February 2019: Global Enterprise Plenary
During the second GE meeting in February 2019, participants discussed the status of existing initiatives and potential space for government action in the areas of nuclear risk reduction, transparency, and fissile material management (identified as three key areas for more detailed consideration) with the objective of identifying priorities in advance of the 2020 RevCon. The discussion was informed by six papers NTI commissioned from various experts. The papers served to enhance understanding of the current state of play and various perspectives on the issues and identify practical ideas and proposals to further develop within the GE.
GE Discussion Papers can be accessed here.
October 2019: Global Enterprise Plenary
Drawing from previous GE discussions and inputs from informal working groups regarding potential specific actions and commitments to risk reduction, transparency, and fissile material management, the October 2019 discussion centered on the strategy, tactics, and actions necessary to make progress on priority commitments.
2020 – 2021: Global Enterprise Activities
Following the October 2019 meeting, NTI staff—in consultation with GE participants—further developed specific ideas for "Joint Voluntary Commitments" (JVCs) that could be adopted prior to or during the next RevCon. A new NTI paper further offers a focused set of recommendations for specific commitments related to practical and achievable actions that NPT States parties could take to advance the NPT's goals and achieve success at the RevCon:
To access a full list of JVCs with proposed language, click here.
To access a Policy Memo outlining priority commitments, click here.
With the postponement of the 2020 RevCon due to COVID-19 (now tentatively scheduled for August 2021), NTI is hosting a series of (virtual) meetings to advance this work and sustain momentum in a shifting international context. Building on earlier discussions, participants discussed ideas for a short list of actions states-parties could realize by the end of the next review cycle in 2025. Discussions further focused on elements that could become part of a complementary high-level statement.
Meeting Summaries
Discussion Papers
NPT Regional Workshops
As part of our Global Enterprise work, NTI since 2019 has been hosting a series of regional workshops in Latin America, Africa, and the Asia Pacific to discuss regional nonproliferation and disarmament concerns and priorities; highlight potential opportunities for governments to contribute to strengthening the NPT and the Review process; and develop and build support for practical steps, new initiatives, and tangible commitments, including those discussed in the Global Enterprise.
For more information about the workshops, including agendas and meeting summaries, click here.
To access papers by regional experts and practitioners on key priorities for the NPT based on the workshop discussions, click here.